Research article

Open Access

Open Peer Review
This article has Open Peer Review reports available.
A spatial simulation model for dengue virus infection in urban areas
BMC Infectious Diseases
2014
14:447
Received: 5 June 2014
Accepted: 13 August 2014
Published: 20 August 2014
Abstract
Background
The World Health Organization estimates that the global number of dengue infections range between 80–100 million per year, with some studies estimating approximately three times higher numbers. Furthermore, the geographic range of dengue virus transmission is extending with the disease now occurring more frequently in areas such as southern Europe. Ae. aegypti, one of the most prominent dengue vectors, is endemic to the far north-east of Australia and the city of Cairns frequently experiences dengue outbreaks which sometimes lead to large epidemics.
Method
A spatially-explicit, individual-based mathematical model that accounts for the spread of dengue infection as a result of human movement and mosquito dispersion is presented. The model closely couples the four key sub-models necessary for representing the overall dynamics of the physical system, namely those describing mosquito population dynamics, human movement, virus transmission and vector control. Important features are the use of high quality outbreak data and mosquito trapping data for calibration and validation and a strategy to derive local mosquito abundance based on vegetation coverage and census data.
Results
The model has been calibrated using detailed 2003 dengue outbreak data from Cairns, together with census and mosquito trapping data, and is shown to realistically reproduce a further dengue outbreak. The simulation results replicating the 2008/2009 Cairns epidemic support several hypotheses (formulated previously) aimed at explaining the large-scale epidemic which occurred in 2008/2009; specifically, while warmer weather and increased human movement had only a small effect on the spread of the virus, a shorter virus strain-specific extrinsic incubation time can explain the observed explosive outbreak of 2008/2009.
Conclusion
The proof-of-concept simulation model described in this study has potential as a tool for understanding factors contributing to dengue spread as well as planning and optimizing dengue control, including reducing the Ae. aegypti vector population and for estimating the effectiveness and cost-effectiveness of future vaccination programmes. This model could also be applied to other vector borne viral diseases such as chikungunya, also spread by Ae. aegypti and, by re-parameterisation of the vector sub-model, to dengue and chikungunya viruses spread by Aedes albopictus.
Keywords
Dengue virusIndividual-based simulation model Ae. aegypti population dynamicsSpatially-explicit modellingDengue outbreaksDengue control measures
Background
Dengue is a leading cause of morbidity in tropical environments around the world [1] with a small proportion of infections resulting in possibly fatal dengue hemorrhagic fever (DHF) [2]. While previous estimates of the global dengue burden were in the range of 80–100 million human infections per year, recent studies suggest a considerably higher number of infections (390 million per year) [3]. There are also clear indications that the global range of dengue transmission is extending (e.g. in Southern Europe), with higher case numbers occurring and Aedes mosquitoes colonizing new habitats [4, 5].
Dengue epidemics can be especially severe in urban areas, where human population density is high [6]. The vector mosquito Ae. aegypti have adapted to life in densely populated areas, using standing water as breeding sites with females feeding predominantly on humans, and are responsible for dengue transmission in urban environments [7].
Controlling dengue outbreaks is resource intensive and large outbreaks may overwhelm even well established and efficient control mechanisms [7]. It is therefore important for the planning of adequate control interventions that the dynamics, frequency and scale of expected outbreaks can be predicted and simulated using suitable computational models [8]. Furthermore, such simulation models can be used to estimate the effectiveness of alternative mitigating intervention strategies that are difficult to determine in the field [9].
Ae. aegypti is endemic to urban areas of northeast Queensland, Australia. Dengue viruses are often introduced to this region through viremic travellers from dengue endemic regions. This frequently causes dengue outbreaks of variable severity and the city of Cairns is often the focus of these outbreaks [7, 10].
Long-term dengue research and surveillance, including mosquito trapping studies in Cairns, has resulted in the collation of significant datasets describing dengue outbreaks in this area [7, 10–13]. These datasets were made available to the authors from the Tropical Population Health Unit (TPHU) of Queensland Health. These data have allowed for the informed development of a detailed dengue simulation model which may be used to estimate and evaluate the characteristics and determinants of dengue outbreaks and to test a range of interventions such as interior (within-house) residual spraying (IRS), the larvicidal treatment or destruction of Aedes breeding sites, potential dengue vaccination programmes and mosquito population manipulation using Wolbachia infected mosquitoes [14].
The aim of the present study was to develop a proof-of-concept, spatially-explicit simulation model of dengue transmission that incorporates individual humans living in the city of Cairns as well as individual mosquitoes, and uses realistic, heterogeneous human and mosquito population structures and movement patterns. A spatial modelling approach is required since many of the factors that are crucial for dengue spread are not homogeneously distributed (e.g., human population density and mosquito abundance).
The model developed in the present study builds upon previous studies which have modelled mosquito population dynamics and/or dengue transmission. The model presented here adopts many of the features of the previously developed CIMSIM/DENSIM and Skeeterbuster models, which are highly developed, complex simulation models that are focused on capturing mosquito population dynamics with great detail using a complex system of customizable mosquito breeding containers and weather data as input [15–25].
The motivation of the present study was i) to build a spatial mosquito population dynamics sub-model which is weather mediated and results in physically realistic temporal and spatial mosquito abundance patterns; ii) to build human population, dengue transmission and outbreak management sub-models with internal feedback (that is, dengue control has an effect on the mosquito population) and couple this to the mosquito population sub-model and iii) to calibrate and validate the model using detailed data available for several dengue outbreaks in the city of Cairns, Queensland.
The resulting model structure utilises new modelling techniques to capture physical system properties such as mosquito flight, rainfall dependence of the mosquito population, human movement patterns and dengue control. Here, the model is demonstrated by reproducing different outbreak scenarios recorded in Cairns. This is one of very few spatial dengue transmission model that include all of the following features i) human movement and mosquito flight, ii) geospatial estimation of mosquito breeding site abundance in an urban area, iii) internal feedback of individual-based mosquito control during a dengue outbreak on the mosquito population dynamics and iv) the use of detailed, spatial outbreak datasets to calibrate and, separately, validate the model.
The developed model is a proof-of-concept demonstration that the inherently complex phenomena observed in actual dengue outbreaks can be captured by a spatial simulation model that incorporates interlinked and interacting sub-models for each of the phenomena that determine the outcome of dengue epidemics. These are: mosquito population dynamics and movement; human population movement; transmission of dengue virus between mosquitos and humans; and vector control measures.
While the following methods section illustrates the overall approach to building, calibrating and validating the model, a detailed description of the various model components may be found in Additional file 1.
Results
Model validation
Following calibration of the model using the 2003 dengue outbreak data, the model was applied to a subsequent, larger epidemic which occurred in Cairns in 2008/2009 (see Figure 4). The 2008/2009 epidemic caused nearly 700 cases in the modelled area, twice as many as the 2003 outbreak. Ritchie et al. [7] discuss several factors that are thought to have contributed to the explosive expansion of the epidemic in late 2008 and its rapid collapse in April 2009. These contributing factors are: i) climatic factors (an unusually warm period in November 2008), ii) dengue virus related factors, specifically the shorter extrinsic incubation period of the DENV3 strain that caused the 2008/09 epidemic, compared to the 2003 DENV2 outbreak [7], iii) human factors, specifically the increased human movement over the Christmas period and iv) the declaration of the outbreak to be an epidemic, invoking a significant expansion of control measures in January 2009 [7].
Using the simulation model it was demonstrated that all of these factors may have acted together to cause the larger scale of outbreak which occurred in 2008/2009 compared to previous dengue outbreaks in Cairns, though some of these factors may have played a more significant role than others. Applying the 2008/2009 temperature profile resulted in an average predicted extrinsic incubation period that was approximately 1 day (0.75 days) shorter than that in 2003. Furthermore, the rainfall pattern in 2008/2009 did not result in a greater predicted mosquito population than in 2003, which is in agreement with mosquito trapping data [7]. As a result, climatic factors alone did not increase the simulated case numbers significantly.
In contrast, simulation experiments demonstrated that the shorter extrinsic incubation period of the specific DENV3 strain that caused the 2008/2009 epidemic (as discussed in [7]) allowed a transmission cycle to be completed in approximately 10 days compared to 17 days in 2003, causing a considerable rise in case numbers and an epidemic that could not be controlled using the initial (2003-based) control measures. The modelled outbreak with significantly increased control measures activated indicated that it was the expansion of control interventions starting in January 2009, following declaration of the outbreak as an epidemic, which caused the decline in weekly case numbers and eventually a rapid collapse of the outbreak. Experiments using the model with the control measures set at the lower 2003-like level resulted in a much longer outbreak which relied on seasonal weather changes before the outbreak was contained, confirming the need for the increased response measures. Increased human movement over the Christmas period (in the model, the month of December) only slightly altered the overall case numbers (by an average of about 50 cases in total).
Table
3
shows the conditions in 2008/2009 that resulted in the best reproduction of the epidemic using the simulation model. The shorter EIP had by far the most significant effect Simulated weekly cases and cumulative cases for the 2008/2009 epidemic are shown in Figure
4
.
Table 3
Differences between the 2003 and 2008/09 outbreak scenarios accounted for in the present study
| | 2003 | 2008 |
| --- | --- | --- |
| Index case cell location | Paramatta Park | Cairns North |
| Onset of Control | day 43 | day 27 |
| Mosquito population | based on 2003 weather | based on 2008 weather |
| Extrinsic incubation period | 4-15 days | 2-6 days |
| Human movement | 3-4 times per week | 6-7 times per week for Dec. 2008 |
| Interventions | constant after day 43 | increased after day 60 (epidemic) |
Successful application of the model in reproducing the 2008/2009 epidemic can be seen as a validation of the overall model as well as the settings used for the key model parameters, which were uncertain prior to calibration with the earlier 2003 outbreak data. Time lapse representations of the 2003 and 2008/2009-like outbreaks are presented in the Additional file
2
and Additional file
3
, respectively.
Additional file 3: Animation of simulated 2008/9 Dengue outbreak, showing mosquito density in grey and human Dengue cases in red.(MP4 909 KB)
Following its development and testing, the model was used to investigate how changes to control measures affect 2003-like and 2008/2009-like outbreaks, providing guidance for the management of future outbreaks.
Effect of variation of activation of control measures
A study by Vasquez-Prokopec et al. [
46
] investigated the consequences of delayed onset of vector control measures for the same 2003 and 2008/2009 outbreaks, using a simpler non-spatial model and found a dramatic increase in total case numbers as a result of delays in the initiation of control measures [
46
]. Similar scenarios were investigated using the simulation model presented here, where two alternative control scenarios were compared with the original 2003 and the 2008/2009 outbreaks. These scenarios were characterised by either a 2 week
earlier onset
of (otherwise unchanged) control measures or a 2 week
delayed onset
of the control measures. Figure
9
shows the predicted scale of the outbreak when initiation of control measures is varied +/-2 weeks from the actual starting time.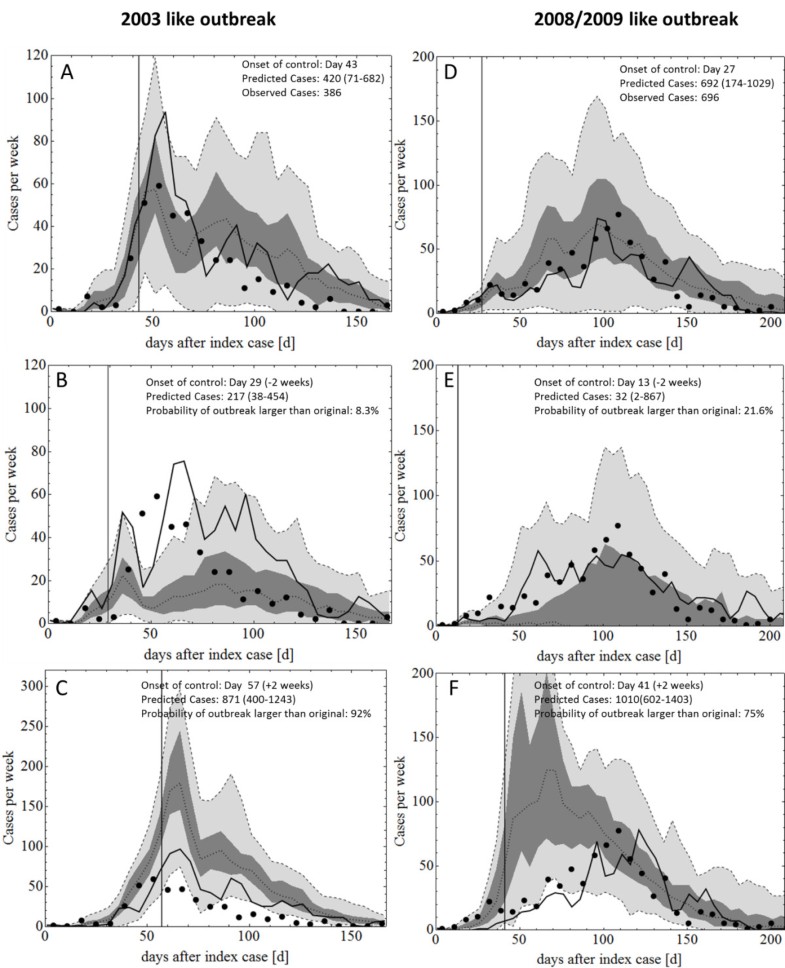 The results are in agreement with the previous study by Vasquez-Prokopec et al. [46], showing that variation of the start date of vector control had a major impact of the overall scale of the simulated outbreaks. In simulations of 2003-like outbreaks, initiating vector control 2 weeks earlier than that which occurred in the actual outbreak reduced the median number of cases by ~50%. Starting control 2 weeks later than the original start date approximately doubled the predicted median number of cases. In all scenarios the control measures were able to reduce weekly case numbers by a similar amount and within a similar time-frame as that observed in the original outbreaks (approximately 150 and 200 days respectively for 2003 and 2008/2009).
In the simulations of a 2008/2009-like epidemic, a 2 week earlier onset of vector control reduced the median case number to 32 (from 692), a reduction of nearly 20 fold. This large difference is due to the very early onset of control (day 13 after index case was diagnosed), resulting in onward transmission having failed to spread beyond a 200 m radius of the index case. The location of the index case was an area where control measures were actively applied, eradicating almost all mosquitoes within a couple of days (compare e.g., Figure 7 or Additional file 2 and Additional file 3). As with the 2003 simulations, lengthening the unmitigated phase of the 2008/2009-like epidemic approximately doubled case numbers but did not prolong the overall duration of the outbreak, which corresponds with previously published estimates by Vasquez-Prokopec et al. [46].
Effect of increased interventions
The model was further applied to investigate the effect which expanded IRS spraying and ovitrap placement would have on 2003-like and a 2008-like outbreaks, where the date of intervention initiation remains unchanged. These experiments were performed as an illustration of the capability of the model to replicate the effect of altered control strategies. The radius of IRS application around the case property was extended to 100 m and the radius of lethal ovitrap placement was extended to 300 m. Furthermore, the capacity for IRS and lethal ovitrap placement was increased from 15 per day to 30 per day and from 150 per day to 300 per day, respectively. The results of the experiments are presented in Figure
10
.Figure
10
illustrates that expanded control measures substantially reduce the scale of the simulated outbreaks, but that they do not reduce overall case numbers as effectively as shortening the delay in the onset of control, as described above. Such increased control measures caused a ~30% reduction in predicted case numbers in the 2003-like scenario and a ~60% reduction in the 2008/2009-like scenario.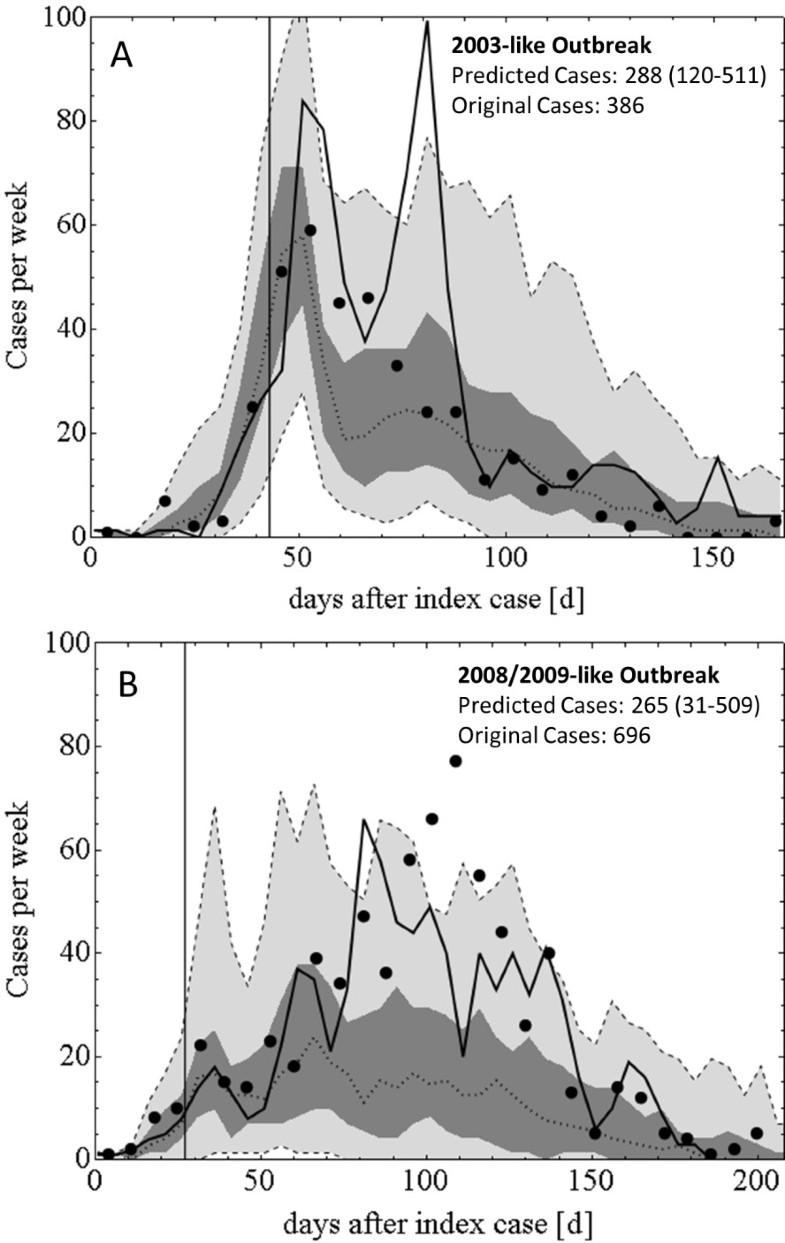 Sensitivity analysis
Sensitivity analyses of the model parameters such as biting rate, fraction of asymptomatic infections, mosquito to human transmission probability and human to mosquito transmission probability were conducted. The values of the relevant model parameters have been adjusted, and the simulation model rerun, to determine the sensitivity of the model to particular parameter settings. While particular parameters were adjusted, no model recalibration took place. The outcomes, for the 2003 and 2008/2009 outbreaks, are presented in Table 2.
Discussion
The model has been customised for the Cairns setting, however we believe that the underlying modelling methods will be applicable to other settings. In the future, an aim will be to explore how the modelling approach presented here can be applied to other urban dengue transmission settings such as areas with endemic dengue, areas with different population structures, and to larger cities. With appropriate re-parameterisation, the model may also be applicable to other Ae. aegypti (and Ae. albopictus) vectored viruses such as chikungunya [47]. The transfer of the model structure to other geographic locations will depend upon on the availability of data, which was extensive in the case of Cairns (a table of required data sources is given in Additional file 1: Table S4). Furthermore, a transfer of the model to a location endemic for dengue may also require changes to the model structure by introducing measures for herd immunity or properties of multiple circulating dengue strains [34].
This study highlights a direction of vector-borne infectious disease modelling away from compartmentalised population-based, spatially-homogenous approaches towards individual-based, spatially-explicit techniques, a move also evident in modelling studies focused on other vector-borne diseases such as malaria [48, 49].
A key goal in developing the model has been to capture the most important features of mosquito population dynamics, relevant human behaviour, dengue transmission and control without making the model overly and unnecessarily complex. It has been recognized that a challenge with developing complex models such as that presented here is to avoid the temptation to make them unnecessarily overcomplicated, as discussed by Basu et al. [50]. The model presented here simplifies certain aspects of the physical world being modelled, usually due to limitations of data availability. These limitations include: i) lack of detailed mosquito trapping data prevented the development of a more detailed mosquito density layer, ii) simplified human movement (e.g., the use of semi-random movement is only a rough approximation of reality), iii) simplified mosquito movement (it may be that mosquitoes do not fly randomly but are directed by various factors such as availability of humans, wind direction etc.), iv) simplified effect and dynamics of vector control (lag time between a case and local control may vary on a case-by-case basis, properties may only be partially treated etc.), v) abstraction of mosquito breeding sites (we do not model every individual container that may serve as a breeding site as with the CIMSIM/DENSIM models) [38]. The model is less detailed in the way it accounts for the presence of mosquito breeding sites compared to the CIMSIM/DENSIM approach, yet in the light of recent findings that some of the detail incorporated into the CIMSIM mosquito population dynamics model may be superfluous this approach seems justified [18]. The validation of the model using high-quality data from a different outbreak to that used to calibrate uncertain model parameters suggests that the level of abstraction adopted is appropriate, and results in a modelling framework which will be capable of use to examine the effectiveness of new intervention strategies as well as helping to explain phenomena contributing to the conditions necessary for dengue to become endemic in Cairns-like settings.
This study describes the development of a complex, spatially-explicit and individual-based dengue transmission model, and makes use of spatio-temporal dengue outbreak data in a novel way to demonstrate that such a model is capable of simulating dengue outbreaks of the type that occur in Cairns, along with the intervention measures used to control them. The study clearly shows the need for high quality outbreak field data to inform and parameterize the model. If such data are available, as was the case in the present study, such a simulation model can be adequately calibrated.
This study presents a dengue modelling framework and highlights how key features of the physical system may be represented in a simulation model. While this modelling methodology has been validated by showing that the system as a whole reproduces the outbreak dynamics of a single dengue epidemic, the availability of new field data will permit further model validation and future model refinement, aiming at making the system more physically realistic. New field data collection will permit further validation of the system as a whole, and for the separate validation of each sub-model that makes up the overall modelling environment.
Limitations of this study include the fact that the model assumes a population centre that experiences episodic dengue outbreaks, and not populations where dengue is endemic. As such, it is assumed that the human population has no immunity to dengue, and that only one dengue strain is present during the outbreak. However the methods used to incorporate the necessary sub-models within the Cairns dengue model will also be applicable to the construction of models where dengue is endemic. Another limitation of the study was that Ae. aegypti trapping data was only available for a limited part of the Cairns urban area; availability of comprehensive mosquito trapping data would allow for further refinement of the spatially-heterogeneous vector habitat sub-models. Based on the Ae. aegypti trapping data, it was assumed rainfall was the main driver of the availability of larval habitats, and thus adult population densities. In other geographical locations (for example, where rainfall is uniform throughout the year) other factors may determine the availability of larval habitats and Ae. aegypti population dynamics. While detailed data on human movement is sparse and our use of a daily cycle of moving to work or school captures regular patterns of human movement within a community, our simple semi-random model of other types of (longer range) human movement could be refined if new reliable experimental data becomes available. Finally, we note that each sub-model which contributes to the overall model is based on the best available data and on expert-informed assumptions where experimental data is not available. Further analyses could be conducted to explore the sensitivity of the model to alternative plausible assumptions about, for example, human movement patterns, or factors determining the spatial heterogeneity of larval habitats.
Conclusion
This study was aimed at developing an individual-based, spatially-explicit model for dengue transmission in an urban environment. This research was facilitated by prior development of mosquito population dynamics models by others [15–25, 38, 51, 52] and research studies describing and quantifying Ae. aegypti entomology and dengue outbreaks, virus properties and the impact of vector control in Cairns [7, 10, 12, 13, 36, 39, 40, 44, 52–55]. Specific goals of the study were to produce a simulation modelling framework that could (a) make use of rich dengue outbreak data sets for calibration and validation; (b) would be capable of investigating hypotheses explaining the size of the 2008/2009 Cairns outbreak; and (c) would incorporate phenomena essential to the prediction of future dengue outbreaks and analysis of dengue control measures, viz. weather-dependent vector population dynamics, spatially heterogeneous vector habitat, spatially targeted vector control, and human host movement.
In order to achieve these goals, the resulting model contains a number of key features. These include: i) human and mosquito movement and realistic population structures, ii) weather-dependent (temperature and rainfall) spatially heterogeneous mosquito population dynamics, iii) geographically and demographically- dependent mosquito abundance, iv) spatially- explicit vector control, v) model calibration using outbreak data and vi) model validation against further outbreak data. The resulting simulation model is complex, consisting of several interacting sub-models. However, this complexity is necessary, and is required in order to represent the inherently complex physical phenomena which contribute to dengue transmission and the scale and timing of dengue epidemics.
The simulation results replicating the 2008/2009 Cairns epidemic presented in this study support several hypotheses (formulated previously) aimed at explaining the large-scale epidemic which occurred in 2008/2009 [7]. Specifically, while warmer weather and increased human movement had only a small effect on the spread of the virus, a shorter virus strain-specific extrinsic incubation time can explain the observed explosive outbreak of 2008/2009 [7]. In agreement with previous studies, the simulation results presented here highlight the importance of rapid diagnosis of potential index cases and prompt initiation of vector control, as presented above in Figure 9[46].
This study, in combination with several previous dengue modelling studies, highlights the importance of spatial and individual-based modelling approaches in order to account for local differences in mosquito and human density and differences in human movement behaviour depending on age and other factors [18, 31, 56]. This study confirms some previously known spatial phenomena, such as human movement and mosquito movement, which facilitate dengue spread (see sensitivity analyses in Table 2, where such movement has been excluded, dramatically reducing simulated case numbers) [31, 56].
The availability of this model will allow further investigation of the effect of different intervention strategies which target various stages of the transmission cycle, such as the effect of potential dengue vaccines, and may also assist with predicting the effect of the release of Wolbachia infected mosquitoes on the native mosquito population, as is currently occurring in Cairns [57].
Declarations
Acknowledgements
Mosquito trapping data was kindly provided by Peter Cook and David Parkington (Monash University, Melbourne, Australia). Gonzalo Vasquez-Prokopec (Emory University, Atlanta, Georgia, USA) kindly provided geo-referenced and de-identified dengue case data. This study has been funded by the University of Western Australia.
Authors' Affiliations
(1)
School of Computer Science and Software Engineering, The University of Western Australia, Crawley, Perth, Australia
(2)
School of Public Health, Tropical Medicine & Rehabilitation Sciences, James Cook University, Cairns, Australia
Copyright
© Karl et al.; licensee BioMed Central Ltd. 2014
This article is published under license to BioMed Central Ltd. This is an Open Access article distributed under the terms of the Creative Commons Attribution License (http://creativecommons.org/licenses/by/4.0), which permits unrestricted use, distribution, and reproduction in any medium, provided the original work is properly credited. The Creative Commons Public Domain Dedication waiver (http://creativecommons.org/publicdomain/zero/1.0/) applies to the data made available in this article, unless otherwise stated.