Research article
Open Access
Plasmodium falciparum malaria parasite var gene expression is modified by host antibodies: longitudinal evidence from controlled infections of Kenyan adults with varying natural exposure
BMC Infectious Diseases
BMC series – open, inclusive and trusted
2017
17:585
Received: 5 August 2017
Accepted: 15 August 2017
Published: 23 August 2017
Abstract
Background
The PfEMP1 family of Plasmodium falciparum antigens play a key role in pathogenesis of severe malaria through their insertion into the surface of parasite infected erythrocytes, and adhesion to host cells. Previous studies have suggested that parasites expressing PfEMP1 subclasses group A and DC8, associated with severe malaria, may have a growth advantage in immunologically naïve individuals. However, this idea has not been tested in longitudinal studies.
Methods
Here we assessed expression of the var genes encoding PfEMP1, in parasites sampled from volunteers with varying prior exposure to malaria, following experimental infection by sporozoites (PfSPZ). Using qPCR, we tested for associations between the expression of various var subgroups in surviving parasite populations from each volunteer and 1) the levels of participants' antibodies to infected erythrocytes before challenge infection and 2) the apparent in vivo parasite multiplication rate.
Results
We show that 1) expression of var genes encoding for group A and DC8-like PfEMP1 were associated with low levels of antibodies to infected erythrocytes (αIE) before challenge, and 2) expression of a DC8-like CIDRα1.1 domain was associated with higher apparent parasite multiplication rate in a manner that was independent of levels of prior antibodies to infected erythrocytes.
Conclusions
This study provides insight into the role of antibodies to infected erythrocytes surface antigens in the development of naturally acquired immunity and may help explain why specific PfEMP1 variants may be associated with severe malaria.
Trial registration
Pan African Clinical Trial Registry: PACTR201211000433272. Date of registration: 10th October 2012.
Keywords
PfEMP1Antibodies P. falciparum ImmunityControlled human malaria infection (CHMI)Sporozoite
Background
When Plasmodium falciparum malaria parasites infect erythrocytes, they insert proteins into the erythrocyte surface that alter the properties of the infected erythrocyte surface. A large component of these inserted proteins is P. falciparum erythrocyte membrane protein1 (PfEMP1) [1]. This family of parasite proteins play a key role in the pathology of severe malaria by mediating the cytoadhesion of infected erythrocytes (IE) to endothelial cells and other uninfected erythrocytes leading to IE sequestration in the microvasculature. This is thought to promote parasite survival by avoiding clearance by the spleen (reviewed in [2, 3]). Cytoadhesion is mediated by two broad categories of adhesive domains called DBL and CIDR domains, arranged in highly diverse combinations like beads on a string [4]. Because of their exposure on the surface of IE for long periods during blood-stage infection, PfEMP1 are key targets of naturally acquired immunity [5]. To evade host antibodies, P. falciparum switches between around 60 members of a diverse genomic repertoire of var genes, using an epigenetic mechanism that ensures only one PfEMP1 antigen is expressed at any one time by each parasite [6]. The var genes within each parasite genome expressed during childhood malaria can be broadly classified through their upstream promotor types: every parasite genome has a small number of var genes with ups A and ups C promotors, with the majority having ups B promotors [7].
The usefulness of PfEMP1 as vaccine targets is potentially limited by their extreme molecular diversity [8, 9]. However, children growing up in malaria endemic areas do develop antibodies to a broad range of PfEMP1 variants and despite their molecular diversity, expression of restricted subclasses of relatively conserved PfEMP1 variants with representative var genes in every parasite genome, have been found to be associated with severe malaria [10–18]. The most important defined subsets of PfEMP1 in this regard are those with an ups A promotor, called "group A" and those containing CIDRα1 domains predicted to bind to endothelial protein C receptor (EPCR) [19]. Though CIDRα1 domains have been identified within var genes with various adhesive domain architectures, they are frequently found in the context of commonly occurring combinations of cytoadhesive domains called "domain cassettes (DC)" [7]. Two examples of CIDRα1-containing DC reported to be associated with severe malaria [16] are DC13 (defined as: DBLα1.7, CIDRα1.4) and DC8 (defined as: DBLα2, CIDRα1.1, DBLβ12, DBLγ4/6). DC13 forms a subset of group A PfEMP1, while DC8, as strictly defined, forms a subset of var genes with ups B promotors (group B) [7]. In 3D7, the DBLα1.7, and CIDRα1.4 domains that make up DC13 are present within a single gene PF11_0521. DC8 as strictly defined, is absent from 3D7. However, PF3D7_0600200 (PFF0010w) and PF3D7_0800300 (PF08_0140) are DC8-like in every respect apart from having CIDRα1.8 and CIDRα1.6 domains respectively in place of CIDRα1.1. PF3D7_0400400(PFD0020c), is DC8-like in every respect apart from having a DBLα1.2 domain in the place of DBLα2, making it a group A var.
The fitness advantages provided by these var gene subsets associated with severe malaria are not known. It is possible that adhesion to EPCR by CIDRα1 increases the ability of parasites to bind to diverse endothelial cells, hence lowering the rate of parasite clearance in the spleen [20]. Alternatively, because group A and DC8 PfEMP1 tend to be relatively long genes they may have more options for cytoadhesion, again allowing them an enhanced ability to avoid passage through the spleen and sustain infections [16, 21, 22]. Because these molecules tend to be more conserved, parasites expressing these variants tend to be recognised by children who have a well-developed repertoire of anti-PfEMP1 antibodies [23, 24]. Therefore, naturally acquired antibodies against these restricted subclasses of PfEMP1 variants have been proposed to confer protection against severe disease [25, 26].
This hypothetical trade-off between cytoadhesion and immune escape leading to the evolution of a subclass of PfEMP1 variants with a growth advantage in immunologically naïve hosts is an attractive idea; it potentially helps explain the development of immunity to severe malaria in the first few years of life despite immense overall molecular diversity in the PfEMP1 family of proteins. Several pieces of evidence indirectly support the idea. Firstly, recombinant proteins made from Group A PfEMP1 and DC8 tend to be more commonly recognized than other group B and C PfEMP1, suggesting they are antigenically more conserved [26–28]. Secondly, expression levels of group A-like PfEMP1 were associated with both severe malaria and absence of antibodies at the time of disease and young host age [10]. However, direct evidence is still needed to support 1) differential survival of this subclass of PfEMP1 variants in the face of different levels of pre-existing naturally acquired immunity and 2) an intrinsic growth advantage over other PfEMP1 types in the absence of antibody pressure, as opposed to a purely passive relation with prior exposure that is driven by their relative conservation [10, 11].
Here, using a controlled human malaria infection (CHMI) study of twenty-eight Kenyan adults infected by intramuscular administration of aseptic, purified, cryopreserved NF54 (the parent line of 3D7) P. falciparum sporozoites, (Sanaria® PfSPZ Challenge) [29], we show that pre-existing antibodies to IE (αIE) were associated with reduced group A and DC8-like var gene expression. One of three sets of primers (dc13, dc8-1 and dc8-2) used to amplify CIDRα1 domains, dc8-1, amplified a var signal associated with apparent in vivo parasite multiplication rate (PMR) after adjustment for prior levels IE antibodies.
Discussion
We used controlled human malaria infection of Kenyan volunteers with varying levels of naturally acquired immunity to malaria to explore how parasites adapt to host antibodies during infections, through switching between alternative copies of PfEMP1 antigens inserted into the surface of parasite infected erythrocytes.
The aim of this study was to examine the inter-relationships between antibodies to parasite infected erythrocytes (αIE) carried by volunteers before experimental infection, the apparent within host multiplication rate of parasites during the subsequent infection (PMR) and the expression of specific sub-classes of parasite var genes in the surviving parasite population at the time before the infections were drug-treated. We focused on the expression of subsets of var genes previously shown to be associated with low host immunity and severe malaria. Taken together, the results show, for the first time, in a longitudinal study that parasite group A and DC8-like var expression is negatively associated with levels of αIE carried before challenge.
PfEMP1 stimulates an antibody response whose breadth develops progressively with increasing exposure to natural P. falciparum infections [5, 28]. To this effect, adults that grow up in malaria-endemic regions can control parasitemia and acquire protection against clinical malaria [47, 48]. Sera from these adults recognize many clinical isolates [49]. This ability to control parasitemia is thought to occur partly by preventing IE cytoadhesion and sequestration in the organs, making them more susceptible to removal by the spleen [50–54].
Earlier serological studies emphasized the importance of gaps in the pre-infection repertoire of protective antibodies to specific antigenic variants in explaining individual instances of clinical malaria [
55
,
56
]. This subsequently developed into a model of immunity in which immune responses to a subset of dominant variants conferring enhanced parasite survival (group A and DC8) potentially explain the relatively rapid development of immunity to severe malaria relative to non-severe malaria or asymptomatic infection (Fig.
2a
-
c
). The negative association between the naturally acquired αIE and expression of group A, DC8 and PMR is consistent with a role for these antibodies against in vivo expansion of parasite population (parasite burden).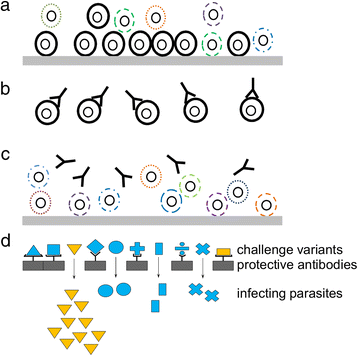 If these two general ideas are combined, we arrive at a model in which variant specific antibodies control individual members of a subset of dominant variants. Under this modified model of variant specific immunity to dominant PfEMP1, we would expect to see examples of dominant PfEMP1 that are associated with PMR, but poorly associated with prior exposure, because of low herd immunity in the host population (Fig. 2d). The single group A gene PFD0020c, predicted to be amplified by the dc8-1 primers may provide an example of such a molecule. Unless the PFD0020c identified in the NF54-derived line 3D7 has undergone substantial rearrangement relative to the parent NF54 line used here, the results suggest that expression of a PFD0020c-like gene was significantly associated with PMR without a significant association with prior αIE antibodies to local isolates. In support of this, PFD0020c from the 3D7 line was notable in previous studies. 1) unlike other group A PfEMP1, PFD0020c was poorly recognized by pooled semi immune serum [26]; 2) in controlled infection of naïve volunteers, this gene was dominantly expressed [44]. It is perhaps also significant to note that the dblβ12 from this PFD0020c was recently found to bind to gCq1R [57] raising the possibly of an immune modulatory effect that might conceivably reduce antibody mediated clearance. Further studies are clearly needed to quantify the expression of individual var genes in relation to domain specific antibodies against recombinant PFD0020c domains in comparison with other PfEMP1 variants from NF54 and other local parasite isolates.
This study was limited to using primers with broad specificity and relatively crude assays to assess antibody carriage before parasite challenge. However, the results demonstrate the strong potential for the exposed volunteer CHMI platform for making a detailed dissection of the host parasite interaction during the development of naturally acquired immunity. Recent studies suggest that parasites may use a similar bet-hedging strategy seen in the var genes to adapt to changes in their host environment [58]. Several other parasite multi-gene families (including rif and stevor encoding exported parasite antigens and others encoding proteins with diverse functions, 6-cys, clag, etramp, acs, fikk and phist a,b and c) are expressed in a clonally variant manner. Future studies using a combination of protein arrays to make fine grained measures of pre-challenge antibodies and parasite RNAseq to assess how infecting parasite populations collectively respond to antibody pressure may now provide direct insight into how parasites establish and maintain infections.
Conclusions
In summary, the results show that 1) naturally acquired αIE antibodies carried before controlled infection with NF54 strain PfSPZ appear to protect preferentially against Group A, and DC8-like var gene expression 2) expression of a var gene predicted to encode a DC8-like PfEMP1 similar to 3D7 PFD0020c, was associated with higher PMR after CHMI. We propose that, in non-immune individuals, absence or low αIE antibodies contributes to a reduction in parasite clearance resulting in increased apparent parasite multiplication rate (PMR). Within such a model, interventions targeting specific subsets of PfEMP1 may reduce parasite growth in vivo which may in turn reduce malaria associated mortality and morbidity.
Abbreviations
CHMI:

Controlled human malaria infection
DC13:

Domain cassette 13
DC8:

Domain cassette 8
IE:

Infected erythrocytes
PfEMP1:

P. falciparum erythrocyte membrane protein 1
PfSPZ:

P. falciparum Sporozoite
PMR:

Parasite multiplication rate
αIE:

antibodies to IE
Declarations
Acknowledgements
We are grateful to the study participants, the nursing, administrative and laboratory teams at the KEMRI centre for Clinical Research, Nairobi and Geographic Medicine Research, Kilifi and Sanaria's pharmaceutical operations, manufacturing, quality, regulatory, clinical and legal teams. We thank the Sanaria Inc. for providing the PfSPZ challenge used in the study.
Funding
This work was supported by the European and Developing Countries Clinical Trial Partnership (grant number: SP 2011.41304.062 to Bernard Ogutu, Kevin Marsh, Stephen L. Hoffman, Susanne H. Hodgson); The Wellcome Trust (grant numbers: 103956 to AA, 097940 to SHH, 106917 to SJD, 084535 to PCB and KM); and The National Institute of Allergy and Infectious Disease (grant number: R44AI058375 to Stephen L. Hoffman). SJD is also a Lister Institute Research Prize Fellow and a Jenner Investigator. AA also received support from Wellcome Trust strategic grant (084538). The funders had no role in study design, data collection and analysis, decision to publish, or preparation of the manuscript.
Availability of data and materials
The dataset used in the study will be made available at https://osf.io/tdgj8/ if the manuscript is accepted.
Authors' contributions
KM, SHH, BO, SJD, and SLH designed the CHMI study, AA and PCB designed the current sub-study. SHH, EJ, BO, KM supervised the CHMI trial. AA and MKM generated the var expression data, CA and AA generated the αIE data, DK generated the real-time PCR data used to compute PMR, FO and GK generated the ELISA data and PB contributed to the analysis of the data. AA and PCB drafted the manuscript and all authors have contributed to the writing and approved the submitted version of the manuscript.
Ethics approval and consent to participate
Ethical approval was obtained from Kenya Medical Research Institute Scientific and Ethical Review Unit (KEMRI-SERU) and written informed consent was obtained from the study participants who were all Kenyan adults. The study methods were carried out in accordance with the approved guidelines.
Consent for publication
This paper was published with the permission of the director of KEMRI.
Competing interests
Sanaria Inc. manufactured PfSPZ challenge used in the study. Thus, Stephen L. Hoffman has potential conflicts of interest.
Publisher's Note
Springer Nature remains neutral with regard to jurisdictional claims in published maps and institutional affiliations.
Open AccessThis article is distributed under the terms of the Creative Commons Attribution 4.0 International License (http://creativecommons.org/licenses/by/4.0/), which permits unrestricted use, distribution, and reproduction in any medium, provided you give appropriate credit to the original author(s) and the source, provide a link to the Creative Commons license, and indicate if changes were made. The Creative Commons Public Domain Dedication waiver (http://creativecommons.org/publicdomain/zero/1.0/) applies to the data made available in this article, unless otherwise stated.
Authors' Affiliations
(1)
KEMRI-Wellcome Trust Research Programme, CGMRC, Kilifi County, Kenya
(2)
Pwani University, Kilifi, Kenya
(3)
The Jenner Institute, University of Oxford, Oxford, UK
(4)
Centre for Clinical Research, Kenya Medical Research Institute, Nairobi, Kenya
(5)
Centre for Research in Therapeutic Sciences, Strathmore University, Nairobi, Kenya
(6)
Sanaria Inc., Rockville, USA
(7)
Department of Pathology, University of Cambridge, Cambridge, UK