Research article
Open Access
Open Peer Review
This article has Open Peer Review reports available.
Persistence, clearance and reinfection regarding six high risk human papillomavirus types in Colombian women: a follow-up study
BMC Infectious Diseases
2014
14:395
Received: 2 May 2014
Accepted: 10 July 2014
Published: 16 July 2014
Abstract
Background
The design of new healthcare schemes which involve using molecular HPV screening means that both persistence and clearance data regarding the most prevalent types of HR-HPV occurring in cities in Colombia must be ascertained.
Methods
This study involved 219 HPV positive women in all of whom 6 types of HR-HPV had been molecularly identified and quantified; they were followed-up for 2 years. The Kaplan-Meier survival function was used for calculating the time taken for the clearance of each type of HPV. The role of a group of independent variables concerning the time taken until clearance was evaluated using a Cox proportional-hazards regression model or parametric (log-logistic) methods when necessary. Regarding viral load, the Wilcoxon rank-sum test was used for measuring the difference of medians for viral load for each type, according to the state of infection (cleared or persistent). The Kruskal-Wallis test was used for evaluating the change in the women's colposcopy findings at the start of follow-up and at the end of it (whether due to clearance or the end of the follow-up period).
Results
It was found that HPV-18 and HPV-31 types had the lowest probability of becoming cleared (1.76 and 2.75 per 100 patients/month rate, respectively). Women from Colombian cities other than Bogotá had a greater probability of being cleared if they had HPV-16 (HR 2.58: 1.51–4.4 95% CI) or HPV-58 (1.79 time ratio: 1.33-2.39 95% CI) infection. Regarding viral load, HPV-45-infected women having 1 × 106 to 9.99 × 109 viral copies had better clearance compared to those having greater viral loads (1.61 time ratio: 1.01-2.57 95% CI). Lower HPV-31 viral load values were associated with this type's persistence and changes in colposcopy findings for HPV-16 gave the worst prognosis in women having low absolute load values.
Conclusions
HPV infection clearance in this study was related to factors such as infection type, viral load and the characteristics of the cities from which the women came. Low viral load values would indicate viral persistence and a worse prognosis regarding a change in colposcopy findings.
Keywords
HR-HPVPersistenceClearance timeColombiaFollow-up studyViral load
Background
Persistent infection with high-risk human papillomavirus (HR-HPV) types is the main (but not the only) cause of developing pre-cancerous lesions or cervical cancer [1–3].
Several types of HPV considered oncogenic have been found to be responsible for around 90% of cancer cases worldwide [3], having high HR-HPV type prevalence rates (i.e. HPV-16, −31, −18, −33, −45 and −58) amongst Colombian women [4]. Our group is aware that multiple infections are of great importance for our population, since more than 40% prevalence has been reported in some regions of the country [4].
It has been described that HPV infection represents a transient phenomenon throughout the whole world, leading to high infection prevalence, even though most cases do not produce cervical lesions and those which do, consist of low grade lesions involving spontaneous regression [5]. However, Colombia does have a high cervical cancer incidence rate and high morbidity-mortality values for a type of cancer which is highly preventable [6, 7].
Intrinsic viral determinants, such as the infecting viral type or viral load, have been identified as HPV persistence markers [1, 8, 9]; however, some socio-environmental factors also play an important role in this type of infection and its possible outcomes [5, 10].
The present work seeks to describe both viral and host factors which could be intervening in the persistence and clearance of the most common HR-HPV types in Colombia. This study was mainly aimed at providing epidemiological information illustrating how HPV infection can become eliminated in a target population, bearing the state of the infection (single or multiple) and the most prevalent HR-HPV types in mind.
Results
The present work has consolidated data concerning 219 women infected by several HR-HPV types; they became voluntarily incorporated into our follow-up study. All the women included guaranteed to attend a base-line visit and at least 3 follow-up visits with around 6 month difference (±3 months); 23.3% of the population being sampled managed to attend follow-up 4 (i.e. data became available from 5 visits).
Regarding baseline information, 23.7% (n = 52: 18.3-29.9 95% CI) of the women in the study were infected by a single type of HR-HPV (single infection); the rest of the population, 76.3% (n = 167) had multiple infections, distributed as follows: 26% (n = 57: 20.3-32.4 95% CI) had infections having simultaneous detection for 2 types of HR-HPV, 29.7% (n = 65: 23.7-36.2 95% CI) infection by 3 types of HR-HPV, 13.2% (n = 29: 9.1-18.4 95% CI) had positive identification for 4 viral types, 5% (n = 11: 2.5-8.8 95% CI) were infected by 5 high risk types and 2.3% (n = 5: 1–5.2 95% CI) had viral DNA identification for 6 types of HR-HPV.
Participants' age ranged from 17 to 71 years-old (SD 10.8, mean 42.2 years). Most of the participating population was mestizo (98.2%; n = 215: 95.4-99.5 95% CI), and from the city of Girardot (66.2%; n = 145: 59.6-72.4 95% CI). The population's socio-demographic and sexual behaviour data was described regarding follow-up (base-line), according to the state of the infection (single infection or multiple infections; Table 2).
Survival data was estimated for each type of HR-HPV regardless of single infection or multiple infections and clearance time for each type (Figure
1
). A greater clearance occurred for HPV-33-infected women, followed by HPV-16-infected females, whilst fewer events per month occurred for HPV-18- and HPV-31-infected women (Table
3
).Figure
2
clearly shows that HPV-18 infection was the most persistent; infection had not become resolved in 15 women 2 years later, followed by HPV-31 which was present in 4 women having positive identification for this type during each follow-up visit (infection remaining unresolved by the end of the study).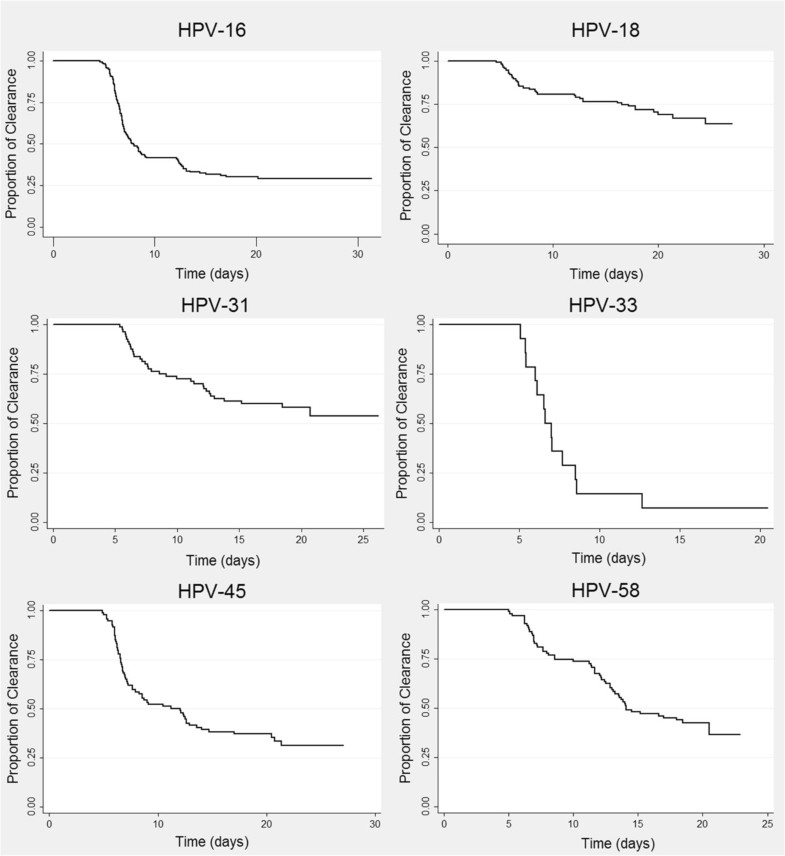 Table 3
Prevalence, reinfection and clearance rates concerning the 6 HR-HPV types
Viral type

Baseline

Clearance

Reinfection

Prevalence% (n=) [95% CI]

Viral load, median (IQR)

Rate* [95% CI]

Total HPV viral load**, median (IQR)

% (n=) [95% CI]

Viral load, median (IQR)

Absolut

Normalised

Absolut

Normalised

Absolut

Normalised

HPV-16

71.2% (156) [64.7-77.1]

2.9E + 6 (9.7E + 6)

0.2 (6.7)

5.9 [4.9-7.2]

2.17E + 09 (7.67E + 10)

5 (13,468)

48.6% (53) [39–58]

2.9E + 6 (9.2E + 6)

0.32 (5.3)

HPV-18

53% (116) [46.1-59.7]

4.3E + 6 (4.56E + 07)

0.42 (13)

1.76 [1.3-2.4]

6.56E + 09 (6.34E + 11)

208 (30,101)

12% (7.4-20.4)

3.0E + 6 (4.28E + 07)

0 .1 (1.8)

HPV-31

37% (81) [30.6-43.8]

9.04E + 07 (6.29E + 09)

44 (3,360)

2.75 [1.96-3.84]

1.23E + 07 (3.02E + 07)

7 (96)

50% (17) [32–67]

1.96E + 09 (7.61E + 09)

3,360 (12,400)

HPV-33

6.4% (14) [3.5-10.5]

2.96E + 07 (1.14E + 09)

3.6 (39,100)

11.51 [6.7-19.8]

1.39E + 9 (1.91E + 10)

774 (4,683)

38.5% (5) [14–68]

1.47E + 08 (5.82E + 08)

51 (128)

HPV-45

43.4% (95) [36.7-50.2]

2.48E + 06 (1.12E + 09)

0.33 (180)

5 [3.9-6.42]

1.84E + 08 (9.30E + 11)

18 (1E + 05)

43.5% (27) [30.9-56.7]

1.14E + 08 (1.94E + 09)

17 ( 7,180)

HPV-58

45.7% (100) [38.9-52.5]

6.14E + 05 (2.1E + 06)

0.4 (15.7)

4.05 [3.1-5.24]

4.35e + 08 (5.92e + 10 )

141 (5,749)

0

0***

0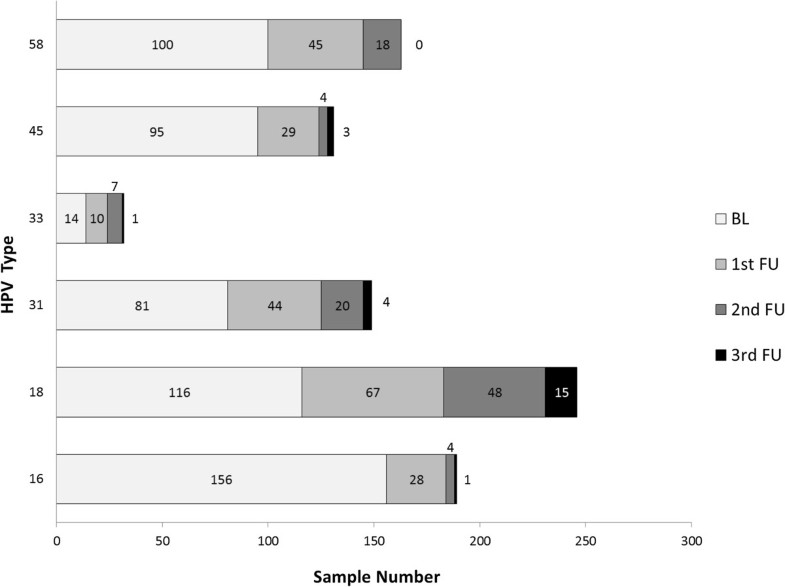 Specific viral load type values were also determined in this study; Table 3 gives both absolute and normalised viral load values for each type infections at the start of the study. It is worth highlighting that those infected by HPV-31 had the highest viral load values, even those normalised by the number of cells, whilst HPV-16 gave the lowest viral load values.
Hazard ratios were calculated for two (HPV-16 and-18) of the 4 most prevalent viral types in molecular determination (i.e. HPV-16, −18, −45, −58), bearing in mind the most important variables in univariate models, for each type (data not shown) (Table
4
). Time ratios were calculated for the remaining types, since these (HPV-45 and −58) did not comply with supposed proportional risks for the aforementioned variables; variables could not thus be re-categorised nor could they be assumed to be time-dependent variables. Regression was thereby modelled using a parametric model, bearing in mind the shape of the hazard function and AIC and BIC. The log-logistic model gave the best fit for both types with the foregoing criteria.
Table 4
Determinants of clearance for the most prevalent HR-HPV types
Time independent variables

HPV-16

HPV-18

HPV-45

HPV-58

Multivariable model HR (95% CI)

Multivariable model HR (95% CI)

Multivariable model Tm R (95% CI)

Multivariable model Tm R (95% CI)

Age

>50

0.99 (0.53-1.86)

0.59 (0.18-1.87)

1.13 (0.63-2.02)

0.94 (0.63-1.38)

35-50

1.14 (0.66-1.96)

0.79 (0.35-1.75)

0.77 (0.49-1.20)

1.26 (0.89-1.79)

<35

Reference

Reference

Reference

Reference

City

Other city

2.58 (1.51-4.4)

1.21 (0.51-2.9)

0.97 (0.62-1.52)

1.79 (1.33-2.39)

Bogota

Reference

Reference

Reference

Reference

Ethnicity

Afrodescendant

2.35 (0.69-7.93)

0.85 (0.11-6.61)

0.42 (0.16-1.12)

-

Mestizo

Reference

Reference

Reference

Reference

Other*

-

-

-

1.17 (0.47-2.89)

Contraceptive method

No method

1.01 (0.65-1.59)

0.75 (0.33-1.73)

0.84 (0.56-1.27)

0.98 (0.73-1.30)

Hormonal

1.45 (0.72-2.96)

1 (0.35 -2.9)

0.76 (0.45-1.26)

0.97 (0.54-1.72)

Other

Reference

Reference

Reference

Reference

Lifetime sexual partners

1

1.24 (0.83-1.86)

1.2 (0.61-2.51)

1.05 (0.72-1.52)

1.10 (0.84-1.44)

>1

Reference

Reference

Reference

Reference

Age at first Intercourse

≥18

0.93 (0.6-1.41)

1.08 (0.53-2.19)

1.23 (0.85-1.77)

1.13 (0.85-1.51)

<18

Reference

Reference

Reference

Reference

Coinfection

Yes

0.87 (0.46-1.65)

2.49 (0.54-11.45)

1.06 (0.46-2.45)

0.87 (0.58-1.32)

No

Reference

Reference

Reference

Reference

Viral Load**

Low

2.1 (0.87-5.15)

0.48 (0.08-2.93)

1.27 (0.76-2.12)

1.36 (0.81-2.29)

Middle

1.49 (0.64-3.51)

0.74 (0.24-2.27)

1.61 (1.01-2.57)

1.04 (0.61-1.78)

High

Reference

Reference

Reference

Reference
Multivariate model values showed that the probability of clearance when a woman had HPV-16 or HPV-58 infection became significantly increased in women from another city compared to women living in the capital. It is worth stating that both types belong to the same species (A9).
Regarding the types belonging to species A7, HPV-18 infection did not have a statistically significant association with any variable evaluated here. However, it was observed that the probability of clearance regarding HPV-45 became significantly increased when the absolute viral load for this type ranged from 1 × 106 to 9.99 × 109 compared to loads equal to or greater than 1 × 1010.
It should be highlighted that single or multiple HR-HPV infection was not associated with time to clearance in the present sample, since coinfection values for any HPV type were not statistically significant in this model (Table 4).
When evaluating the medians for normalised viral load (per cell) for each type, according to the state of infection at the end of follow-up (cleared or persistent), it was observed that the median for HPV-31 type in the group of women where clearance was found (median = 332.5; IQR = 12,399.72) was greater than the median for those where this virus was not cleared (median = 9.4; IQR = 1,659.98, p = 0.0450). There were no differences in any of the groups regarding the medians for the other HR-HPV types.
The change in colposcopy findings was also evaluated concerning the result at the start of follow-up and the result at the moment of clearance, or at the end of follow-up (Figure
3
). There were statistically significant differences regarding HPV-16 concerning absolute values for viral loads for each group, since the value for the group which became worse regarding diagnosis by colposcopy was lower (median = 89,300; IQR = 253,600) than that for the other groups (improved: median = 2.9 × 10
6
; IQR = 1.1 × 10
7
; alike: median = 2.9 × 10
6
; IQR = 9.9 × 10
6
) (p = 0.046). There were no differences in the rest of the types evaluated here regarding viral load according to change in colposcopy findings.

When evaluating normalised viral load according to the degree of HPV infection and colposcopy findings at the start and end of follow-up, it was found that median viral load for HPV-58 was greater for women who had a better prognosis (median = 3.98; IQR = 351.9) compared to those whose prognosis remained the same (alike) (mean = 0.013; IQR = 0 .68), only in the group of women having persistence for this virus (p = 0.012).
The number of reinfections for each viral type was determined (Table 3); HPV-58 was the only viral type for which there were no reinfection events during the time follow-up lasted.
Discussion
This study has provided detailed epidemiological data for six HR-HPV types present in a Colombian cohort. This has been the first study in Colombia (to the best of our knowledge) aimed at using real time quantification of DNA from the 6 most prevalent types of HR-HPV, giving absolute and normalised load values.
Findings concerning the virus' persistence for the 6 types included here have demonstrated that the risk of acquiring a later HPV infection becomes increased in women already infected by any type of HPV (regardless of complying with a phylogenetic relationship [23], mainly between high risk types [24, 25]). Such coinfection could have been the result of immune system deficiency regarding clearance, thereby facilitating viral persistence at the infection site [25].
Regarding the state of infection (single or multiple) and its relationship to clearance time, this work did not reveal an important relationship between such aspects. Various studies have shown that type specific HPV clearance seems to occur regardless of coinfection in an immunocompetent population [26, 27].
The highest clearance rates in our cohort were observed for HPV-33 and HPV-16. Previous reports have shown that HPV-16 clears out after other HR-HPV types [26, 28, 29], but in or study, this type of infection displayed a more transient pattern. Our results are in agreement with previous studies showing that the majority of women with a type-specific infection are negative for that particular viral after one year [19, 30].
The reduced clearance rates observed for infections with HPV-18 and −31 types is particularly important bearing in mind that HPV-31 was found in high prevalence in our country [4] and that HPV-18 has been detected in aggressive forms of cancer [31].
Despite HPV-31 was not evaluated in the multivariable model due to the low sample size, it is worth noting that it displayed the highest viral load values and one of the lowest clearance rates. Future studies analysing more women infected with this viral type might help to a better understanding about the influence of viral loads in the type-specific clearance process.
HPV-16, −18 and −58 viral load values did not have a clear relationship with clearance time. This has already been shown for a population from Bogotá in a study involving semi-quantitative identification of viral DNA [24]. The present study showed that, regardless of using a more sensitive technique, no relationship was established between viral load and clearance time for these types, not just in Bogotá, but also in other Colombian cities.
Another factor associated with clearance time was city of origin, showing that women infected by types from the A9 species became cleared more rapidly if they came from Girardot/Chaparral. It is supposed that these cities have factors related to sexual behaviour or cultural characteristics which were not measured in this study and which would have modulated such findings. When analysing the control arm of the large randomised PATRICIA study, it was found that region of origin was one of the behavioural determinants of clearance time, as north-American women took less time to clearance than their European counterparts [20].
Regarding ethnicity, fine control was not used for obtaining it; thus, other ethnic characteristics which were not controlled in this study may have intervened in such marked association between city and clearance time. Another aspect concerned the women's nutritional state; most women were from low socio-economic strata. However, nutritional and/or feeding data was not controlled and may have provided more detailed characteristics concerning the population's idiosyncrasies. Previous studies have shown that women who consumed one or more servings of vegetables per day cleared their HPV infections more quickly than women who did not consume vegetables daily [32]. The intake of lower levels of micronutrients found in vegetables has been associated with increased persistence [33].
Other factor that was not measured in this study but that could influence HPV clearance is hygienic practices. In a cohort of university students, it has been shown that the use of tampons was associated with a reduced rate of HR-HPV clearance [32].
Very interesting data for three A9 species types (HPV-16, −31 and −58) was revealed when determining viral load according to the state of infection and colposcopy findings since these had low viral load values (absolute or per cell) associated with greater lesion severity at the end of follow-up or when infection did not become eliminated. Besides intermediate viral load values for HPV-45 (A7 species) were associated with faster time to clearance, this may be a factor related to transient infection. Such results could have been due to immune system evasion mechanisms since it has been reported that low HPV viral load values have been related to persistent infection [34] and it could be suggested that higher viral load values could be detected efficiently by the immune system and rapidly eliminated.
This is contradictory with studies proposing that high viral loads facilitate persistence, specifically, it has been shown that HPV-16 viral loads in LSIL and HSIL were higher compared with no intraepithelial lesion or malignancy [35].
This work has several strengths, such as having compiled data from two important focuses of HPV infections (i.e. Girardot and Bogotá), determined viral load using the most sensitive technique for doing so and the percentage of multiple infections revealing an important Colombian populational characteristic. However, the study had difficulties in terms of follow-up times, since infection transience meant that shorter follow-up times than the ones established here may probably have led to obtaining more precise clearance and incidence values. Our information was limited to using prevalent high risk infections for analysing persistence and clearance of infection; the foregoing means that follow-up studies are needed to facilitate understanding the most prevalent epidemiological HPV patterns for Colombia.
Diagnosing HPV infection in clinical specimens has been widely accepted to date in Colombia; viral DNA identification in this type of sample has been included in the Obligatory Healthcare Plan, 2012. The following step must thus be to incorporate monitoring from the identification of HPV infection in cervical cancer control schemes. Such work thus contributes towards the search for a correct algorithm for defining HPV DNA screening since the time taken for most women to clear the virus must be determined for calculating the determinants of such scheme and be referred to regular monitoring [19].
Conclusions
Time to clearance in Colombian females infected by the most frequently occurring HR-HPV types in the sample population was not modulated by infection status (single or multiple). However, viral load played a role in terms of infection regarding HPV-45 and the origin of HPV-16 and −58 infection. Viral persistence and worsening of cytological findings were related to lower HPV-16, −31 and −58 viral loads. All women in our sample who eliminated HPV-58 were not infected again by this viral type. Given that time to clearance was related to lesion development, such information should prove significant when designing HPV DNA primary screening in Colombian healthcare systems, as well as in developing countries.
Abbreviations
HPV:

Human papillomavirus
HR-HPV:

High risk human papillomavirus
L-SIL:

Low squamous intraepithelial lesion
H-SIL:

High squamous intraepithelial lesion
ASCUS:

Atypical squamous cells of undetermined significance
HMBS:

Hydroxymethylbilane synthase
PCR:

Polymerase chain reaction
RT-PCR:

Real-time PCR
DNA:

Deoxyribonucleic acid
STD:

Sexually-transmitted diseases
SD:

Standard deviation
CI:

Confidence interval
HR:

Hazard ratio
Tm R:

Time ratio
IQR:

Interquartile range
AIC:

Akaike information criterion
BIC:

Bayesian information criterion.
Declarations
Acknowledgements
We would like to thank the hospital San Rafael in Girardot, Hospital San Juan Bautista in Chaparral and Hospital de Engativá in Bogotá, as well as the people who collaborated in obtaining the patients who participated in this study. We would also like to thank Elizabeth Vargas who coordinates the Universidad del Rosario's Cellular and Molecular Biology laboratory for providing us with facilities for developing the methodological part of the study and Jason Garry for translating this manuscript.
Authors' Affiliations
(1)
Molecular Biology and Immunology Department, Fundación Instituto de Inmunología de Colombia (FIDIC), Bogotá, Colombia
(2)
School of Medicine and Health Sciences, Universidad del Rosario, Bogotá, Colombia
(3)
Faculty of Natural and Mathematical Sciences, Universidad del Rosario, Bogotá, Colombia
(4)
School of Medicine, Universidad Nacional de Colombia, Bogotá, Colombia
(5)
Mathematics Department, Universidad Pública de Navarra, Pamplona, Spain
Copyright
© Soto-De León et al.; licensee BioMed Central Ltd. 2014
This article is published under license to BioMed Central Ltd. This is an Open Access article distributed under the terms of the Creative Commons Attribution License (http://creativecommons.org/licenses/by/4.0), which permits unrestricted use, distribution, and reproduction in any medium, provided the original work is properly credited. The Creative Commons Public Domain Dedication waiver (http://creativecommons.org/publicdomain/zero/1.0/) applies to the data made available in this article, unless otherwise stated.