Research article
Open Access
Open Peer Review
This article has Open Peer Review reports available.
Vitamin B6 reduces hippocampal apoptosis in experimental pneumococcal meningitis
BMC Infectious Diseases
2013
13:393
Received: 23 January 2013
Accepted: 21 August 2013
Published: 27 August 2013
Abstract
Background
Bacterial meningitis caused by Streptococcus pneumoniae leads to death in up to 30% of patients and leaves up to half of the survivors with neurological sequelae. The inflammatory host reaction initiates the induction of the kynurenine pathway and contributes to hippocampal apoptosis, a form of brain damage that is associated with learning and memory deficits in experimental paradigms. Vitamin B6 is an enzymatic cofactor in the kynurenine pathway and may thus limit the accumulation of neurotoxic metabolites and preserve the cellular energy status.
The aim of this study in a pneumococcal meningitis model was to investigate the effect of vitamin B6 on hippocampal apoptosis by histomorphology, by transcriptomics and by measurement of cellular nicotine amide adenine dinucleotide content.
Methods and results
Eleven day old Wistar rats were infected with 1x106 cfu/ml of S. pneumoniae and randomized for treatment with vitamin B6 or saline as controls. Vitamin B6 led to a significant (p > 0.02) reduction of hippocampal apoptosis. According to functional annotation based clustering, vitamin B6 led to down-regulation of genes involved in processes of inflammatory response, while genes encoding for processes related to circadian rhythm, neuronal signaling and apoptotic cell death were mostly up-regulated.
Conclusions
Our results provide evidence that attenuation of apoptosis by vitamin B6 is multi-factorial including down-modulation of inflammation, up-regulation of the neuroprotective brain-derived neurotrophic factor and prevention of the exhaustion of cellular energy stores. The neuroprotective effect identifies vitamin B6 as a potential target for the development of strategies to attenuate brain injury in bacterial meningitis.
Keywords
Bacterial meningitis Streptococcus pneumoniae Kynurenine pathwayVitamin B6
Background
Bacterial meningitis (BM) caused by S. pneumoniae is a life-threatening disease associated with high mortality and morbidity rates. In spite of effective antimicrobial therapy and intensive care, about 50% of survivors suffer from long-term sequelae, including hearing loss, neurofunctional problems, seizure disorders, sensory-motor deficits, and persisting learning and memory difficulties [1–3].
Two pathophysiologically different forms of brain injury, namely hippocampal apoptosis and cortical necrosis, have been demonstrated in patients [4] and in corresponding experimental animal models of BM. Damage to the hippocampal formation has been associated with learning and memory impairments [3, 5].
Inflammatory conditions in the brain induce tryptophan (TRP) degradation through the kynurenine (KYN) pathway, resulting in several neuroactive metabolites which can be both, neurotoxic or neuroprotective (Figure
1
). The KYN pathway may be involved in the mechanisms leading to brain damage associated with inflammatory brain diseases, such as multiple sclerosis or cerebral malaria [
6
,
7
]. The pathophysiology of pneumococcal meningitis is initiated by activation of the immune system of the host, leading to the induction of metabolic pathways in the brain [
6
]. Increased TRP degradation caused by the activation of the KYN pathway may also be involved in the processes that result in neuronal damage observed in pneumococcal meningitis [
2
,
6
,
8
]. The neurotoxic effect of the intermediates 3-hydroxykynurenine and 3-hydroxyanthanilic acid involves the generation of superoxide and hydrogen peroxide that contribute to oxidative processes implicated in the pathophysiology of meningitis. In contrast, neuroprotective kynurenic acid (KYNA), an antagonist of the excitotoxic
N
-methyl-D-aspartate (NMDA) receptor, protects from excitotoxic brain damage in experimental BM [
6
]. Furthermore, the catabolism of TRP over the KYN pathway is the exclusive
de novo
synthesis pathway for nicotine amide adenine dinucleotide (NAD+) in eukaryotic cells [
6
]. NAD+ fuels the poly(adenosine 5′-diphosphate (ADP)-ribose) polymerase whose over-activation during neuro-inflammatory diseases may deplete intracellular NAD+ levels and thus, resulting in necrotic cell death [
9
]. Therefore, the KYN pathway induced in pneumococcal meningitis may influence the fate of neuronal tissue over NAD+ supply [
6
,
9
].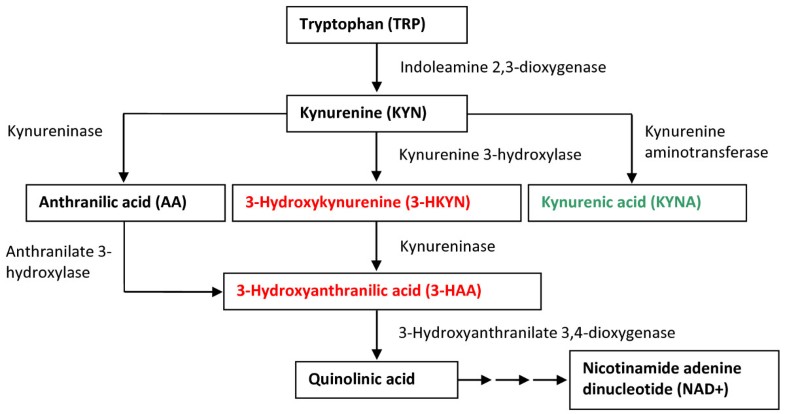 Pyridoxal 5′-phosphate, the active form of vitamin B6, optimizes the substrate flux in the KYN pathway by acting as cofactor for two key enzymes, KYN aminotransferase and kynureninase [10]. Administration of vitamin B6 may attenuate neuronal cell death in BM by preventing both, the accumulation of neurotoxic intermediates of the KYN pathway and cellular energy depletion by enhancing the de novo synthesis of NAD+.
In the present study, we evaluated the mode of action of vitamin B6 by microarrays. We interpreted the transcriptomic data using biological system based analysis rather than a "gene by gene" approach. The Gene Ontology (GO) [11] and the Kyoto Encyclopedia of Genes and Genomes (KEGG) pathway [12] database provide a basis for grouping genes according to their molecular functions, biologic processes and cellular components, and their involvement in concordant cellular pathways, respectively.
Histopathological analysis showed that vitamin B6 significantly reduced hippocampal apoptosis in pneumococcal meningitis. Furthermore, based on fluorescence measurements of hippocampal NAD+ levels, an effect of vitamin B6 in preserving cellular energy stores was found.
Methods
Ethics statement
All animal studies were approved by the Animal Care and Experimentation Committee of the Canton of Bern, Switzerland (Nr. 26/07), and followed the Swiss national guidelines for the performance of animal experiments.
Model of experimental pneumococcal meningitis
We used an established model of experimental pneumococcal meningitis in infant rats [13]. On postnatal day 11, Wistar rats (n = 28) were infected by intracisternal injection of 10μl of saline solution containing 1 × 106 cfu/ml of S. pneumoniae (serotype 3). At time of infection, animals (n = 14) received 360μl of vitamin B6 subcutaneously (s.c.; 600mg/kg; Streuli, Uznach, Switzerland). Placebo-treated animals (n = 14) were injected s.c. with 360 μl of 0.85% NaCl. Eighteen hours after infection, all animals were treated s.c. with 100 mg/kg of the antibiotic ceftriaxone (Roche Pharma, Reinach, Switzerland) and a second dose of vitamin B6 or 0.85% NaCl was administered. At the same time point, infection was documented by quantitative culture of 5 μl of cerebrospinal fluid (CSF) and all rats were weighed and clinically assessed using the following score system: 1 for comatose animals, 2 for rats that do not turn upright after positioning on the back, 3 for animals that turn within 30 s, 4 for animals that turn within less than 5 s and 5 for rats with normal activity [13]. Twenty four hours after infection, the rats were sacrificed by an overdose of intraperitoneal (i.p.) pentobarbital (100 mg/kg, Esconarkon, Streuli & Co. AG, Uznach, Switzerland).
For NAD+ measurements, Wistar rats (n = 15) were infected by intracisternal injection of 10 μl of 1×106 cfu/ml of S. pneumoniae. At time of infection, animals were randomized for treatment with vitamin B6 (600 mg/kg s.c. 0 and 18 h p.i., n = 6) or an equal volume (360 μl) of 0.85% NaCl (s.c., n = 9). Three saline-treated rats were sacrificed at the same time point (0h p.i.). The antibiotic therapy was started 18 h post-infection (100 mg/kg ceftriaxone, s.c.). At the same time point, 3 vitamin B6- and 3 saline-treated rats were sacrificed (18 h p.i.), and a second application of vitamin B6 and 0.85% NaCl, respectively, were administered to the remaining 6 animals. These animals were sacrificed 24 h after infection (24 h p.i.).
Tissue processing
Immediately after sacrifice, the animals were perfused via the left cardiac ventricle with 30 ml of RNAse-free ice-cold phosphate buffered saline (PBS). The brains were dissected followed by removal of the meninges and segmentation of the brains into the 2 hemispheres. The right hemisphere was fixed in 4% paraformaldehyde (Grogg, Stettlen-Deisswil, Switzerland) in PBS for 3 days at 4°C and then cryo-protected in 18% sucrose at 4°C until further processing for histopathological assessment of brain injury. From the left hemisphere the hippocampus was dissected in ice-cold PBS, stored in RNAlater® (Ambion Europe Ltd., Huntingdon, UK) for 1 day at 4°C and subsequently at −80°C until isolation of RNA. For NAD+ measurements, the hippocampus of the left hemisphere was frozen on dry ice and stored at −80°C.
Histopathology
To assess the brain damage caused by BM the brains were analyzed histomorphologically. The cryo-protected brains were frozen in 2-methylbutane (−50°C), and from each animal four 45 μm cryo-sections of the dentate gyrus were cut using a Cryostat (Leica CM1850 cryostat) and transferred onto a gelatin/chrom alum-coated glass slide. The slides were put in Xylol, hydrated, Nissl stained with cresyl violet, dehydrated and mounted with Entellan® (Merck, Darmstadt, Germany). The amount of apoptotic cells in the dentate gyrus of the hippocampus and of the extent of damage to the cerebral cortex were evaluated using bright-field microscopy. Neurons of the dentate granule cell layer with morphological changes characteristic for apoptosis (condensed, fragmented nuclei and/or apoptotic bodies) were counted in 3 visual fields (400× magnification) in each of the 2 blades of the dentate gyrus. An average score per animal was calculated from all sections evaluated, applying the following scoring system: 0–5 cells = 0, 6–20 cells = 1 and >20 cells = 2 [14]. The cortical damage was assessed as the amount of damage of the total volume of the cortex as previously reported [15].
RNA isolation, quality control and chip hybridization
From tissue samples of the hippocampus total RNA was isolated using the magnetic beads based EZ1 RNA Universal Tissue Kit (Qiagen, Basel, Switzerland) and EZ1 BioRobot (Qiagen). Tissue stabilized in RNAlater® was mixed with 750 μl QIAzol® Lysis reagent. Samples were immediately homogenized by a rotor-stator homogenizer (TissueRuptor®, Qiagen). After incubation for 5 min at room temperature, 150 μl chloroform (Grogg) was added to the homogenized tissue samples. A centrifuging step for 15 min at 4°C and 12'000 rpm resulted in the separation of the sample into 3 phases. 300 μl of the upper phase containing RNA was used as starting material for RNA isolation using the EZ1 BioRobot, following the manufacturer's protocol.
Quantification of RNA was performed on the Agilent 2100 Bioanalyzer platform (RNA 6000 Nano, Agilent Technologies, Waldbronn, Germany) and validated on the NanoDrop® (NanoDrop, Wilmington, USA) device.
From 28 histopathologically evaluated rat brains with evidence for apoptosis, RNA extracts from 5 vitamin B6- and 5 saline-treated animals were selected randomly for array hybridization. Chip hybridization was performed in cooperation with the Lausanne DNA Array Facility (University of Lausanne, Switzerland). Double-stranded cDNAs were synthesized from 100ng of total RNA using T7 promoter-(N) 6 primers (Affymetrix, Santa Clara, CA) and the Whole Target Transcript cDNA synthesis kit (Affymetrix). Quantification and quality control of cDNA was performed by NanoDrop® and Agilent 2100 Bioanalyzer platform, respectively. Three microgram of fragmented, biotinylated cDNA was hybridized in a Hybe Oven (GeneChip® 640) overnight onto commercially available GeneChip® Rat Gene 1.0 ST Array (Affymetrix) containing over 27'000 rat genes. The hybridized samples were stained with streptavidin phycoerythrin and the signal was amplified by a biotinylated anti-streptavidin antibody. Washing, staining and amplification were performed in an Affymetrix GeneChip® Fluidics Station 450. The components required for these steps were provided by the GeneChip® Hybridization, Wash, and Stain kit (Affymetrix). Microarrays were scanned in an Affymetrix GeneArray® scanner 3000. Resulting image files served as basis for the calculation of signal intensities with the Affymetrix GeneChip® Operating Software (GCOS).
Datamining
All data is MIAME compliant and has been deposited in the ArrayExpress database of the European Bioinformatics Institute (http://www.ebi.ac.uk/arrayexpress, accession number E-MEXP-3555).
Chip data analysis was carried out on the R platform for statistical programming using packages from the Bioconductor project [16]. Because of the asymmetric distribution of microarray data, expression values were log2 transformed. Background correction, quantile normalization and probe set summary (robust regression, only perfect matches) were performed with non linear methods based on the robust multi average (RMA) function of the Bioconductor affy package [17]. Chip quality control was explorative evaluated using box plots of the raw log scale intensities and MA-plots visualizing signal intensity dependent effects on the log-ratios (affy package).
To reduce the number of hypothesis to be tested in the adjacent significance tests, genes were filtered based on the following criteria: all genes that were expressed under the estimated background intensity of 26 fluorescent units on at least 4 of the 10 arrays and genes with an interquantile range of less than 0.001 were excluded. Differentially expressed genes were identified by using the linear models for microarray data (limma) package [18] which implements a moderated t-statistic for significance testing. The type 1 error rate was adjusted to 1% using the Benjamini-Hochberg false discovery rate algorithm [19]. Genes which had cross-hybridized on the chip or which had no annotation in any existing data bank were excluded from further analysis.
The transcriptomic data were evaluated by the functional annotation clustering tool of DAVID (Database for Annotation, Visualization and Integrated Discovery) bioinformatics (http://david.abcc.ncifcrf.gov/) for GO statistics [11] and by biological system based analysis using the KEGG pathway database (http://www.genome.jp/kegg) for pathway analysis [12].
Chip validation by real time PCR
cDNA was synthesized from 1.5 μg of total RNA using the High-Capacity cDNA Reverse Transcription Kit (Applied Biosystems, Foster City, CA), according to the manufacturer's protocol. The cDNA samples were diluted 1:5 with RNAse-free water and aliquots were stored at −20°C. Real time PCR was performed using the QuantiFast Probe PCR kit from Qiagen (composed of Hot Star Taq Plus DNA polymerase and dNTP mix in PCR buffer) and TaqMan® Gene Expression Assays (Applied Biosystems).
All reactions were carried out as duplicates. Template cDNA was amplified with the Rotor-Gene Q platform (Corbet RESEARCH) operating with the Run on Software version "Rotor-Gene 1.7.87".
The primers used for this PCR and their reference sequences (RefSeq) as well as their ordering numbers of Applied Biosystems are listened in Table
1
. The delta Ct values were calculated based on normalization to the housekeeping gene
ribosomal protein L24
(Rpl24).
Table 1
TaqMan® gene expression assays (Applied Biosystems)
| Name | RefSeq | Assay number |
| --- | --- | --- |
| Brain-derived neurotrophic factor (BDNF) | NM_012513.3 | Rn01484924_m1 |
| Neuronal PAS domain protein 4 (Npas4) | NM_153626.1 | Rn00596522_m1 |
| Lysozyme 2 (Lyz2) | NM_012771.2 | Rn00562794_m1 |
| Platelet-activating factor acetylhydrolase 2 (Pafah2) | NM_177932.2 | Rn00710058_m1 |
| Nuclear receptor subfamily 4, group A, member 1 (Nr4a1) | NM_024388.1 | Rn01533237_m1 |
| Ribosomal protein L24 (Rpl24) | NM_001007637.1 | Rn01455518_g1 |
Hippocampal NAD+ levels
For assessment of cellular energy status NAD+ levels were measured in hippocampal tissue from rats with BM treated with vitamin B6 or saline at 0, 18 and 24 hours after infection (n=3 for each experimental group and time).
Frozen dissected hippocampi were homogenized 1:10 (wt/vol) in ice-cold assay buffer (50 mM Tris and 2 mM MgCl2, pH 8.0) and 50 μl of the homogenates were transferred into a 96-well fluorescence plate. NAD+ was quantified according to the method of Putt and Hegenrother [20]. The plate was read on a SpectraMax Plus (Molecular Devices, Sunnyvale, CA) with an excitation of 360 nm and an emission of 445 nm, and values were plotted against a NAD+ calibration curve (Sigma, St. Louis, MO).
Discussion
Apoptosis of cells in the hippocampal dentate gyrus is a characteristic form of brain damage in BM [3, 21]. In experimental models an association of injury to the dentate gyrus with learning and memory deficits has been shown [5]. The present study demonstrates that treatment with vitamin B6 reduces the number of apoptotic cells in the hippocampal dentate gyrus. We investigated the mechanisms underlying this neuroprotective effect by studying the influence of vitamin B6 on the transcriptome and on cellular energy stores.
In the model used, hippocampal apoptosis starts to occur during the acute phase of BM (18-24 h) with a peak in the sub-acute phase at 36 h, and reaches control levels in the late phase of the disease (46-72 h). Recent studies in our lab showed that in the acute phase of BM, genes that are significantly expressed in the hippocampus and cortex are mainly involved in processes of the immune and inflammatory response [23]. The innate immune system has a predominant role in immune defense in the otherwise immune privileged brain tissue. However, neurological complications secondary to BM [3] suggest that the host defense mechanisms are inefficient in eliminating the pathogen and furthermore, that the host inflammatory reactions contribute considerably to the brain damage observed in the disease. As shown previously, the major events on transcriptional level concerning the regulation of the host immune response occur within the first 3 days after infection [23].
A promising candidate for pre-treatment of BM is vitamin B6 administered during the acute phase of the disease. A prerequisite for the application of a therapeutic target is the understanding of the processes leading to the desired effects, in the case of vitamin B6 to a reduction of hippocampal apoptosis. Thus, in the present study, we focused on the mechanisms that take place as a consequence of vitamin B6 treatment in the acute phase of BM. The time point for the second application of vitamin B6 (18 h post-infection) and the endpoint at 24 h post-infection were chosen during the acute phase of BM according to recent findings which define a time window for therapeutic interventions during this phase of the disease.
In order to handle the huge data mass resulting from a microarray study, we clustered the significantly regulated transcripts according to their involvement in given biological processes (Figure 4).
Conclusions
Pre-treatment with vitamin B6 in BM exerts neuroprotective effects in terms of reduced apoptosis in the hippocampal dentate gyrus of infant rats. Although the processes required for this effect need more investigation, preservation of cellular energy stores, reduction of the inflammatory response and up-regulation of BDNF expression may, at least partially, explain the neuroprotective properties of vitamin B6 in models of pneumococcal meningitis.
Abbreviations
ARC:

Activity regulated cytoskeletal-associated protein
BDNF:

Brain-derived neurotrophic factor
BM:

Bacterial meningitis
CNS:

central nervous system
CSF:

Cerebrospinal fluid
DAVID:

Database for annotation, visualization and integrated discovery
EGR2:

Early growth response 2
ETB:

EndothelinB
GCOS:

GeneChip® operating software
GO:

Gene ontology
GPCRs:

G protein coupled receptors
IL-1R:

IL-1 receptor
i.p.:

Intraperitoneal
KEGG:

Kyoto Encyclopedia of genes and genomes
KYN:

Kynurenine
KYNA:

Kynurenic acid
Limma:

Linear models for microarray data
LYZ:

Lysozyme
MAPK:

Mitogen-activated protein kinase
MCP:

Monocyte chemoattractant protein
MIP:

Macrophage inflammatory protein
MMP:

Matrix metalloproteinase
NAD+:

Nicotine amide adenine dinucleotide
NMBR:

Neuromedin B receptor
NMDA:

N-methyl-D-aspartate
NO:

Nitric oxide
Npas4:

Neuronal PAS domain protein 4
NR4A:

Nuclear receptor subfamily 4 group A
PAF:

Platelet activating factor
PAFAH2:

PAF acetylhydrolase 2
PBS:

Phosphate buffered saline
PER:

Period
PTEN:

Phosphatase and tensin homolog
RefSeq:

Reference sequences
RGS:

Regulators of G protein signaling
RMA:

Robust multi average
Rpl24:

Ribosomal protein L24
s.c.:

Subcutaneously
TGF-β:

Transforming growth factor-β
TLRs:

Toll-like receptors
TRP:

Tryptophan.
Declarations
Acknowledgments
Special thanks go to Roney S. Coimbra for participation in the initiation of the project, Kevin Oberson and Angela Bühlmann for excellent technical assistance, as well as to the Lausanne Genomic Technologies Facility (University of Lausanne, Switzerland) for chip hybridization with technical support from Otto Hagenbüchle.
The experiments of this work were done at the Institute for Infectious Diseases of the University of Bern.
Funding
The study was supported by the UBS Optimus Foundation and by the Swiss National Science Foundation (31003A-138094). The funders had no role in study design, data collection and analysis, decision to publish, or preparation of the manuscript.
Authors' Affiliations
(1)
Biology Division, Spiez Laboratory, Federal Office for Civil Protection, Austrasse, Switzerland
(2)
Institute of Parasitology University of Bern, Bern, Switzerland
(3)
Graduate School for Cellular and Biomedical Sciences, University of Bern, Bern, Switzerland
(4)
Neuroinfection Laboratory, Institute for Infectious Diseases, University of Bern, Bern, Switzerland
Copyright
© Zysset-Burri et al.; licensee BioMed Central Ltd. 2013
This article is published under license to BioMed Central Ltd. This is an Open Access article distributed under the terms of the Creative Commons Attribution License (http://creativecommons.org/licenses/by/2.0), which permits unrestricted use, distribution, and reproduction in any medium, provided the original work is properly cited.