Research article

Open Access

Open Peer Review
This article has Open Peer Review reports available.
Identification of gene targets against dormant phase Mycobacterium tuberculosis infections
BMC Infectious Diseases
2007
7:84
Received: 01 March 2007
Accepted: 26 July 2007
Published: 26 July 2007
Abstract
Background
Mycobacterium tuberculosis, the causative agent of tuberculosis (TB), infects approximately 2 billion people worldwide and is the leading cause of mortality due to infectious disease. Current TB therapy involves a regimen of four antibiotics taken over a six month period. Patient compliance, cost of drugs and increasing incidence of drug resistant M. tuberculosis strains have added urgency to the development of novel TB therapies. Eradication of TB is affected by the ability of the bacterium to survive up to decades in a dormant state primarily in hypoxic granulomas in the lung and to cause recurrent infections.
Methods
The availability of M. tuberculosis genome-wide DNA microarrays has lead to the publication of several gene expression studies under simulated dormancy conditions. However, no single model best replicates the conditions of human pathogenicity. In order to identify novel TB drug targets, we performed a meta-analysis of multiple published datasets from gene expression DNA microarray experiments that modeled infection leading to and including the dormant state, along with data from genome-wide insertional mutagenesis that examined gene essentiality.
Results
Based on the analysis of these data sets following normalization, several genome wide trends were identified and used to guide the selection of targets for therapeutic development. The trends included the significant up-regulation of genes controlled by devR, down-regulation of protein and ATP synthesis, and the adaptation of two-carbon metabolism to the hypoxic and nutrient limited environment of the granuloma. Promising targets for drug discovery were several regulatory elements (devR/devS, relA, mprAB), enzymes involved in redox balance and respiration, sulfur transport and fixation, pantothenate, isoprene, and NAD biosynthesis. The advantages and liabilities of each target are discussed in the context of enzymology, bacterial pathways, target tractability, and drug development.
Conclusion
Based on our bioinformatics analysis and additional discussion of in-depth biological rationale, several novel anti-TB targets have been proposed as potential opportunities to improve present therapeutic treatments for this disease.
Keywords
Tuberculosis
Terminal Electron Acceptor
Knockout Experiment
Universal Stress Protein
Triacyl Glycerol
Background
Mycobacterium tuberculosis, the causative agent of tuberculosis (TB), kills more than 2 million people per year and has infected an estimated 2 billion people worldwide. It is the leading cause of mortality due to infectious disease [1]. The host immune response to aerosol infection is to quarantine M. tuberculosis in a structure called a granuloma which halts replication of the bacillus and suppresses the immediate threat of active infection [2]. However, granuloma associated M. tuberculosis bacterium can switch to a dormant or non-replicative state and successfully evade any immune response for decades post-initial infection [3]. As the host immune system falters, M. tuberculosis returns to replication mode, which leads to the recurrence of active infection. Thus current TB therapy to fight off active disease requires a strictly monitored treatment period or DOTS (directly observed treatment, short course) lasting up to six months and involving four different drugs: isoniazid, rifampicin, pyrazinamide, and ethambutol [4–6]. Patient compliance with this prolonged therapeutic regime is an important concern. Moreover, prolonged exposure to drugs has likely been an important factor behind increasing reports of anti-biotic resistant bacterium [7]. The lack of well-defined targets specific to dormancy phase M. tuberculosis has been a major obstacle in the development of effective short-course therapies.
A number of studies have attempted to develop in vitro and in vivo models of non-replicating, dormant phase M. tuberculosis. These can be grouped into four main types: hypoxia, starvation, macrophages, and murine infection. Each system mimics some of, but not the entire, clinical situation. The Wayne model (slowly stirred, sealed cultures with a defined air-space to medium ratio) [8] captures the presumed hypoxic nature of the granuloma, but lacks the effect of the immune response, macrophage phagocytocis, and eventual release to the extracellular milieu. The starvation models are not hypoxic and may not capture the unbalanced diet in the granuloma. The macrophage phagocytosis experiments show the early adaptation to the host immune response, but do not address the long term metabolic changes. While the murine model replicates many facets of the human immune response [9], mice do not show well-formed granulomas and lack the caseous, necrotic centers characteristic of human infection [10]. None of these models fully capture the heterogeneity of the granuloma, with a gradient of active and inactive/dead immune cells, oxygenation, and nutrients.
DNA microarrays have been used to determine the complete transcriptional response of M. tuberculosis cultured in each of these experimental models. In addition to the dormancy models, DNA microarrays have also been employed to do genome-scale knockout experiments using saturating transposon insertion mutagenesis. Mutants have been profiled for the ability to grow in vitro, in mouse macrophages, and in vivo mouse models [11–14]. In these experiments genes containing (presumably inactivating) insertions are selected for the ability to grow. A disrupted gene that inhibits growth yields a decreased signal on the microarray compared to the genomic control. In the absence of suitable gene inactivation studies for the dormant phase, the phenotypic effects of gene knock-outs on growth phase M. tuberculosis seems to be the best indicator of gene essentiality from a drug target perspective.
Here we present a novel and comprehensive meta-analysis of the M. tuberculosis gene expression and gene disruption microarray data sets. In the absence of a perfect experimental model we chose a consensus approach and combined the different analyses together into a single database. Recently, Hasan et al. of the pharmaceutical company, Novartis, described an in-house software tool for in silico prioritizing of genomic drug targets in pathogens and illustrated its use on M. tuberculosis [15]. Using this tool, they provided three lists based on different prioritization criteria for: 1) genes associated with critical metabolic reactions (chokepoints) unique to M. tuberculosis; 2) genes highly specific to the Actinobacter (the taxonomic class of bacteria inclusive of M. tuberculosis) and absent from other gut flora and 3) genes potentially important in maintaining persistence. The latter criterion is the most critical clinical need for TB treatment, and both Hasan's et al. study and ours use several similar published gene expression and essential data-sets to approach the identification of M. tuberculosis persistence targets. However, GlaxoSmithKline experiences in developing novel antibacterials from a genomics-driven target-based approach have shown the importance of multiple analysis perspectives and the need to substantiate initial bioinformatics target identifications with additional biological rationale [16]. Therefore, while encouraged that several potential targets presented here are also substantiated by earlier computational studies using different approaches, we feel it is important to further extend and rationalize in silico target validation with current knowledge on the biology, biochemistry and disease pathology of M. tuberculosis. Thus, we have tried to provide such additional rationale when evaluating those targets from our prioritized list that are the most promising candidates for concerted drug development programs.
Results
Figure
1
shows a flowchart of our approach to utilize the microarray data sets to identify putative gene targets in non-replicative
M. tuberculosis
. Table
1
shows the data sets collected in the first step. Since the experimental conditions in the dormancy models were quite varied (e.g. 24 h of starvation in culture media to 4 weeks in whole mice), the expression results for each gene were normalized (Fig.
1
, Step 2). A zero to five scoring system was developed based upon two criteria. The first criterion was the overall relevance of the experimental conditions to persistance in the granuloma. The mouse macrophage and whole animals studies model the immediate response of
M. tuberculosis
to immune attack and long term survival in the host. The granuloma itself is characterized by avascularization and necrosis which have been modeled by the hypoxic and starvation conditions. The maximum score for a particular experimental dataset was adjusted based on potential relevance to the clinical occurrence of dormancy phase
M. tuberculosis
infections. For studies with multiple time series sampling, increasing weight was given to later time-point samples. The second criteria involved the rank order of gene expression in a particular study which allowed for cross-study comparsions (See Table
1
and Methods for details on the scoring scheme). Down-regulated expression was scored the same as up-regulated expression except that negative values were used to easily separate the two sets of results. (Some genes show significant scores in both the up-regulated and down-regulated data sets. This is not surprising considering the variation among studies in experimental situation and the number of time-points.) The knockout experiments were similarly scored by rank order of effect on growth, except that genes having no effect were scored as zero.
Table 1
Sources, experimental models, and scoring criteria for Mycobacterium tuberculosis DNA microarray gene expression and genome-wide gene knock-out (growth phase essentiality) data used in this study.
Reference

Experimental model

Timepoint: Maximum scorea

Betts et al., 2002 [116]

Starvation under controlled O2

96 h: 3

24 h: 2

4 h: 1

Hampshire et al., 2004 [30]

Nutrient depletion under controlled O2

62 and 75 d: 5

49 d: 4

18 d: 2

Muttucumaru et al., 2004 [115]

Wayne model of hypoxia [8]

14 d (NRP-2): 4

7 d (NRP-1): 2

Voskuil et al. 2004 [31]

Wayne model of hypoxia [8]

30 and 80 d: 5

14 and 20 d: 4

10 and 12 d: 3

6 and 8 d: 2

Schnappinger et al. 2003 [29]

Infection of mouse macrophages, +/- γ-INF

24 and 48 h: 5

Karakousis et al., 2004 [117]

Hollow fiber subcutaneous implant in mice

10 d: 3

Talaat et al., 2004 [118]

Infection of mice. MTB harvested from lungb

28 d: 3

Sassetti et al. 2003a [13]

TraSH mutated libraries grown on solid media

14 d:5

Rengarajan et al. 2005 [12]

Infection of mouse macrophages, +/- γ-INF with TraSH mutated libraries of M. tuberculosis

7 d: 5

Sassetti et al. 2003b [14]

C57BL/6J mice infected with TraSH mutated libraries of M. tuberculosis

7, 14, 28 and 56 d: 5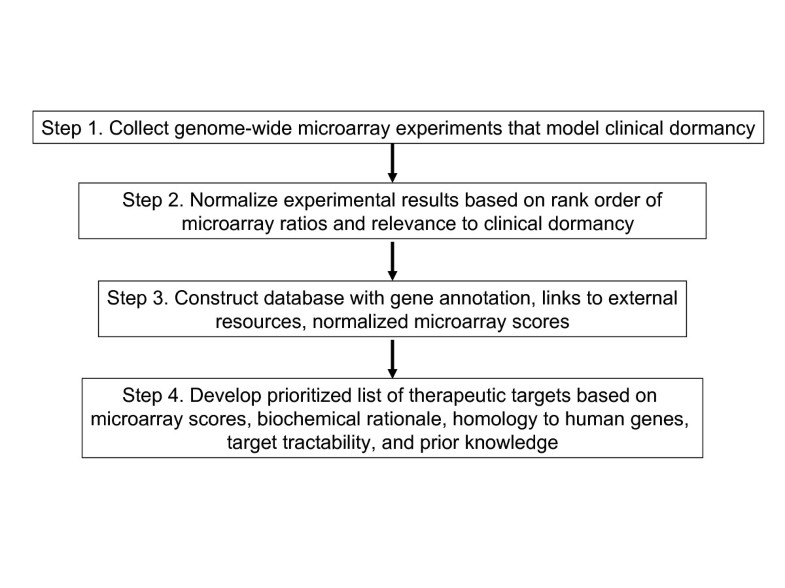 In Step 3 scores for each gene in each of the experimental conditions were collected into a Microsoft Access database. Reference fields were added to facilitate prioritization, such as the Refseq ID, Genbank function, Genbank note, Tuberculist classification, and KEGG and Sanger Center links. These data are available in Additional file 1.
There are two important characteristics of this meta-analysis: i) in order for a gene to score well it must be in the top quarter of highly induced genes across several experimental models of dormancy and ii) the expression levels for the highest expressing genes are attenuated. The latter item has the effect of avoiding the situation where a very large fold increase in one experiment dwarfs all other results. The first point is illustrated by the intersection of the top 400 genes (~10% of the genome) from the hypoxia, starvation, and
in vivo
murine models, shown in Fig.
2
. The great majority of the high scoring genes come from the subset where two or three of the groups intersect. By combining the data from different models, a consensus view can reached about the particular genes and pathways most critical for survival in the dormant state.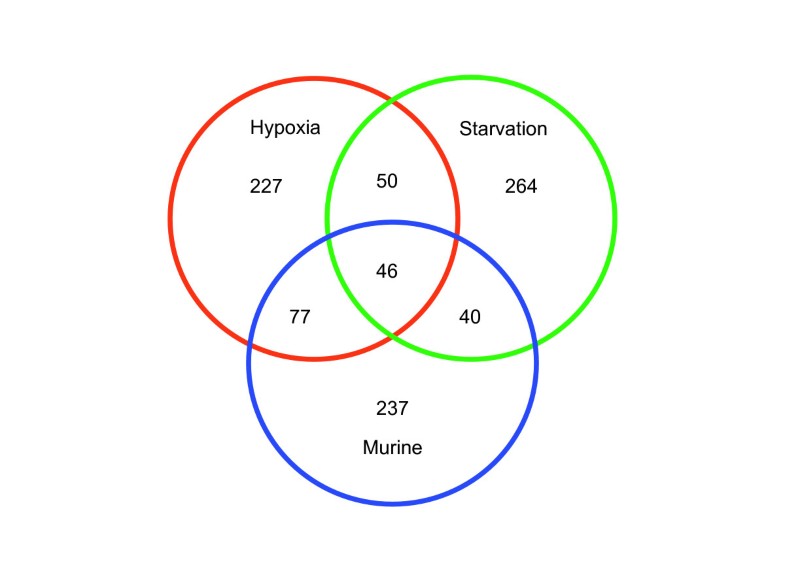 Discussion
Our analysis suggests that during dormancy M. tuberculosis performs limited protein synthesis. The pathogen spends its available resources on maintaining cell wall, membrane potential and genome integrity as well as resisting host defenses.
The main objective of our analysis was to develop a prioritized list of genes that might be suitable targets for drugs effective against non-replicating bacilli (Fig 1, Step 4). The foremost assumption is that genes that are highly expressed in a number of experimental situations are important for persistence of non-replicating M. tuberculosis. This was not an absolute criterion but pathways or multimeric complexes in which only a single gene was up-regulated were judged to be less important or anomalous results and, therefore were considered to be lower priority targets. The knockout experiments address a fundamentally different question than do the dormancy experiments (e.g. replication versus non-replicative survival). The focus of this analysis is on the non-replicative state. Targets that show both up-regulation in the dormant state and inhibit growth are certainly more interesting, but it may well be the case that genes required for survival in the non-replicating state have no effect on growth. As an example, Rengarajan et al. found that genes expressed under hypoxic or low nutrient conditions simulating the granuloma environment, are not necessarily essential for intracellular growth in macrophages [12]. In bacteria, growth essential genes are often constitutively expressed while virulence and environmental response genes tend be highly regulated yet essential during those periods of high induction. Thus one would expect that different groups of genes play distinctive roles, and have transient importance for viability, in the non-replicative versus replicative phases of the bacterium's life cycle.
Here we discuss the relative tractability of proposed dormancy phase modulated genes and pathways as drug targets for the eradication of dormancy phase M. tuberculosis. The individual genes and scores discussed below are listed in Additional file 4. Since not every gene in a particular pathway scored highly, we included additional low scoring pathway proteins in order to provide context for targeting particular pathways.
Conclusion
Here we integrated a number of data sets that utilized DNA microarrays covering spectrum of experimental conditions into a single analysis of dormant phase M. tuberculosis. Drug targets to specifically attack non-replicative bacilli emerging from our analysis were several regulatory elements that have the potential to force M. tuberculosis back into replicative mode. Other targets take advantage of the presumed hypoxic environment to state to disrupt redox balance, an altered respiratory chain, or the likely scarcity of ATP.
A recent paper was able to examine the transcriptional profile of M. tuberculosis from human lung samples [113]. The patients had active disease and were on chemotherapy so some of the granulomas were breaking up as part of reactivation. As a result a fraction of the cells were exposed to oxygen in vivo and possibly post excise as the resected samples were exposed to air. This could explain the up-regulation of a number of genes involved in aerobic metabolism. While a very important study we believe that these samples may be quite heterogeneous and might not entirely reflect the dormant phase.
The advent of large scale genomics covering not only the genomes of multiple bacterial species but also various strains within a pathogenic species, has lead to the application of comparative genomics analysis to derive lists of high priority gene targets. Genes can be ranked by a number of different criteria such as divergence from human genes; essentiality for both in vitro and infectious viability; homology across known pathogens; importance to pathogenic life cycle; tractability to small molecule inhibitors and so on. In reality, some seemingly obvious criteria have little pharmacological relevance. For example, the antibiotic rifampicin targets DNA-directed RNA polymerase which is highly conserved across all species including prokaryotes and humans yet it is a key member of the anti-TB compound quartet. While bioinformatics derived lists of prioritized genes can provide important starting points for new target discovery and to help organize genomic data [15], decisions on which TB drug development strategies to pursue requires additional context about pathogen biology, biochemistry, pharmacology and pathogenicity. Using this approach, we have suggested several potential drug development strategies against dormant phase M. tuberculosis which target key biosynthetic pathways.
Methods
The data sets and scoring weights compiled for this analysis are listed in Table 1. A zero to five scoring system was developed that utilized both the relevance of the experimental conditions to the dormant state and the rank order of expression.
The maximum score for a particular experimental dataset was adjusted based on our judgement of relevance to the clinical occurrence of dormancy phase M. tuberculosis infections. For studies with multiple time series sampling, increasing weight was given to later time-points samples. For example Wayne and Hayes [8] have shown two phases of metabolic shiftdown: NRP-1 (characterized by tolerance to metronidazole, greatly slowed growth, and thickening of cell walls) and NRP-2 (characterized by sensitivity to metronidazole and absence of growth) [114]. In order to take into account both phases, but weigh the scoring toward NRP-2, which is likely more relevant to clinical dormancy, genes in NRP-2 received higher scores (e.g. 5 points maximum) than genes in NRP-1 (e.g. 2 or 3 points maximum).
Once the maximum score was set for a particular experiment, the genes were ordered from highest to lowest based on expression ratio (fold expression in the experimental condition versus cells in log-phase liquid culture). The highest scoring gene received the maximum score (listed in column 3 of Table 1. (e.g. 5, 4 ..., 1 point)). The score was decreased by 0.005 points for each gene in order until zero, or the end of the data set was reached. Thus when the maximum score was 4 points, the 100th ranked gene would receive a score of 3.500. For a maximum score of 5 points, 1000 genes or 25% of the MTB genome received a score. For experiments where data from multiple time points were collected, the maximum score across all time points was used as the final score.
For example the up-regulation score of Rv3133c, devR, was calculated by summing the maximum scoring time-point (underlined) from the following studies (score:timepoint):
Hampshire et al., 2004 [30] (0:18 d, 0:49 d, 3.57:62 d, 0.185:76 d);
Muttucumaru et al., 2004 [115] (1.915:7 d, 3.915:14 d);
Voskuil et al. 2004 [31] (0:4 d, 1.875:6 d, 1.895:8 d, 2.860:10 d, 2.815:12 d, 3.820:14 d, 3.07:20 d, 0:30 d, 3.325:80 d);
Schnappinger et al. 2003 [29] (0:24 h (naïve, ampl.), 0:24 h (naïve, oligo.), 0:48 h (naïve, ampl.)), 4.870:24 h (activated, ampl.), 4.800:24 h (activated, oligo.), 4.185:48 h (activated, ampl.).
In the remaining 3 studies [116–118]), this gene scored zero. Therefore, the up-regulation score of Rv3133c, devR equaled 16.175.
The scores for down-regulated expression were collected in a similar fashion, except that genes were ordered from lowest to highest and scores were negative. For the transposon-based knockout experiments, genes which had no effect on growth received a score of zero.
Declarations
Acknowledgements
This work was supported by the Informatics Department, Molecular Discovery Research, GlaxoSmithKline (GSK). We thank Joanna Betts, GSK Informatics, for pointing out various data-sources and Jose F Garcia-Bustos, GSK Disease of the Developing World Initiative, for many useful discussions. We also thank Valerie Mizrahi, Martin Voskuil and Helen Billman-Jacobe for their very helpful reviews of this manuscript.
Authors' Affiliations
(1)
Informatics, Molecular Discovery Research, GlaxoSmithKline, Collegeville, USA
(2)
Department of Biochemistry, UW2523, Cardiovascular and Urogenital CEDD, GlaxoSmithKline, King of Prussia, USA
Copyright
© Murphy and Brown; licensee BioMed Central Ltd. 2007
This article is published under license to BioMed Central Ltd. This is an Open Access article distributed under the terms of the Creative Commons Attribution License (http://creativecommons.org/licenses/by/2.0), which permits unrestricted use, distribution, and reproduction in any medium, provided the original work is properly cited.