Research article
Open Access
Open Peer Review
This article has Open Peer Review reports available.
Choosing algorithms for TB screening: a modelling study to compare yield, predictive value and diagnostic burden
BMC Infectious Diseases
2014
14:532
Received: 4 April 2014
Accepted: 3 September 2014
Published: 19 October 2014
Abstract
Background
To inform the choice of an appropriate screening and diagnostic algorithm for tuberculosis (TB) screening initiatives in different epidemiological settings, we compare algorithms composed of currently available methods.
Methods
Of twelve algorithms composed of screening for symptoms (prolonged cough or any TB symptom) and/or chest radiography abnormalities, and either sputum-smear microscopy (SSM) or Xpert MTB/RIF (XP) as confirmatory test we model algorithm outcomes and summarize the yield, number needed to screen (NNS) and positive predictive value (PPV) for different levels of TB prevalence.
Results
Screening for prolonged cough has low yield, 22% if confirmatory testing is by SSM and 32% if XP, and a high NNS, exceeding 1000 if TB prevalence is ≤0.5%. Due to low specificity the PPV of screening for any TB symptom followed by SSM is less than 50%, even if TB prevalence is 2%. CXR screening for TB abnormalities followed by XP has the highest case detection (87%) and lowest NNS, but is resource intensive. CXR as a second screen for symptom screen positives improves efficiency.
Conclusions
The ideal algorithm does not exist. The choice will be setting specific, for which this study provides guidance. Generally an algorithm composed of CXR screening followed by confirmatory testing with XP can achieve the lowest NNS and highest PPV, and is the least amenable to setting-specific variation. However resource requirements for tests and equipment may be prohibitive in some settings and a reason to opt for symptom screening and SSM. To better inform disease control programs we need empirical data to confirm the modeled yield, cost-effectiveness studies, transmission models and a better screening test.
Keywords
TuberculosisSystematic screeningDiagnostic algorithmsModelling
Background
The current global rate of decline in TB incidence, at about 2% annually, is grossly insufficient to reach the goal of TB elimination by 2050 [1]. Missed and delayed diagnosis of active TB helps sustain transmission and is a major contributor to the slow rate of decline. It also translates into poor health outcomes in people who get no or too late access to appropriate treatment [2]. In order to improve early detection of TB, active case finding approaches may be needed in certain risk groups with high TB prevalence or poor access to TB diagnosis. A recently released WHO guideline provides recommendations on when, whom and how to screen for active TB [3, 4].
TB screening is defined as "systematic identification of people with suspected active TB in a predetermined target group, using tests, examinations, or other procedures which can be applied rapidly" [3]. Screening is offered systematically to predetermined target groups, and not only to individuals seeking care for symptoms or signs [4]. Screening could target both people who seek health care (with or without symptoms/signs consistent with TB) and people who do not seek care. In addition to prerequisites that need to be met regarding TB program performance and health system capacity, the decisions about screening require prioritization of risk groups, an approach on how to reach the intended populations, and choices with respect to the screening and diagnostic algorithm [3].
Such an algorithm will generally be composed of one or more screening methods and one or more confirmatory tests (Figure
1
). Symptom questionnaires and chest radiography are the most available and best documented methods to screen for active TB disease [
5
,
6
]. Confirmatory tests are historically sputum smear microscopy, and mycobacterial culture, which is the reference standard of diagnostic testing for TB [
7
], and the more recently developed molecular Xpert MTB/RIF assay (Cepheid, Sunnyvale, CA) [
8
]. However, culture is often not available for routine diagnosis in high TB burden countries [
9
], and requires a much longer wait for results (2–6 weeks) than the Xpert MTB/RIF assay (XP) and sputum-smear microscopy (SSM), both of which can provide final test results in less than 1 day [
8
]. In theory, the algorithm could comprise of one simple and cheap rapid test that can diagnose TB with high sensitivity and very high specificity. However, in practice none of the currently available tests for TB fulfill this ideal profile [
9
]. A screening initiative will thus need to consider which algorithm is the most appropriate for a specific risk group in a specific setting. This requires balancing the yield of true- and false-positive and -negative TB, the benefits and risk of each outcome, the resource requirements, cost-effectiveness, and the feasibility of reaching and enabling access to full diagnostic work-up as well as required care for the screened population.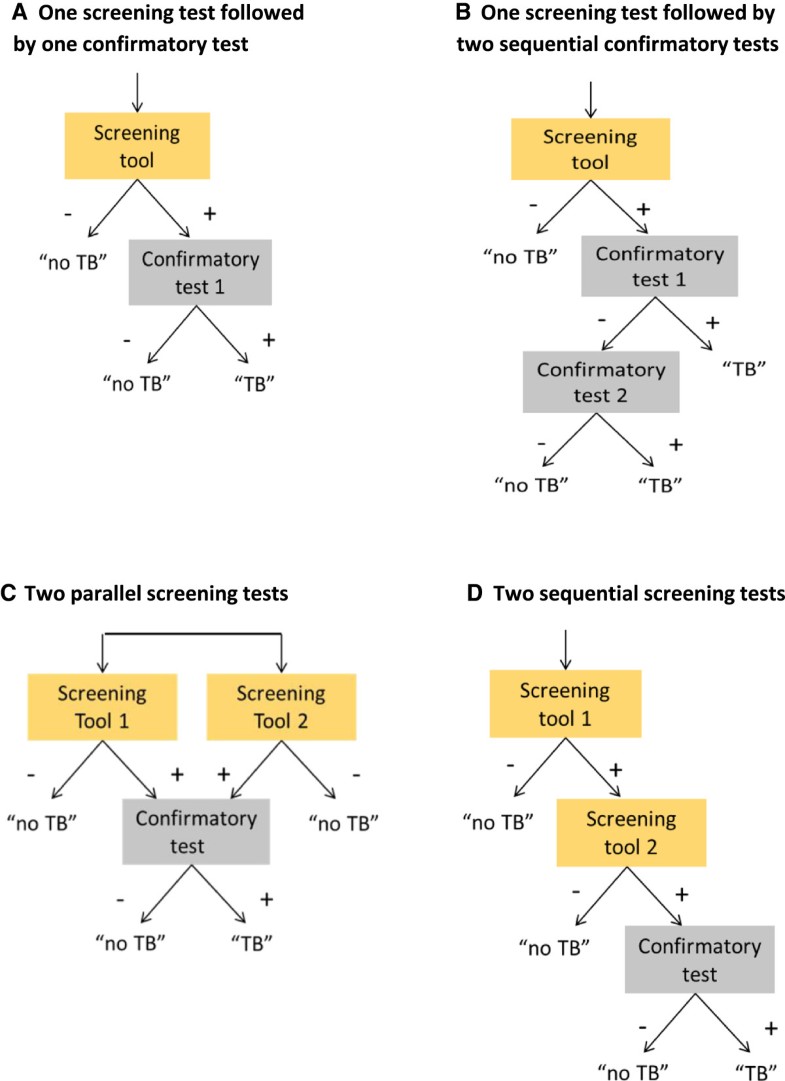 To inform the choice of an appropriate algorithm we discuss clinical epidemiological principles that are important for screening and diagnostic algorithms, and we use a simple mathematical model to compare algorithms that may likely be considered for TB screening using currently available screening and diagnostic methods. We compare the yield, positive predictive value, and requirements in terms of diagnostic tests.
Discussion
This modeling study shows how algorithms that could be considered for a TB screening initiative differ in the proportion of TB cases detected, the NNS, the risk of providing a TB diagnosis to individuals who do not have TB, an indication of the number of tests that need to be used to detect a true case of TB, and how those are affected by the prevalence of TB in the screened population and by variation in performance of screening and diagnostic tests.
How could TB screening programs use this information
For a TB screening program in a specific setting, the choice of screening and diagnostic methods will depend on several considerations. The choice between symptom and CXR screening may be driven by the availability, cost and mobility of CXR equipment, but should be balanced against the overall resource requirements for an active screening initiative and the expected yield. The algorithm composed of screening for prolonged cough followed by smear microscopy requires the least resources for screening and confirmatory tests, but the low case detection, only 22% of the TB cases, results in a high NNS which is inefficient. In severely resource constrained settings this algorithm may nevertheless be chosen since a low number of confirmatory tests is needed, it does not require expensive equipment, and the costs of reaching out to the screened population may be low in such settings. A more sensitive symptom screen, any TB symptom, increases the proportion of cases detected and thus lowers the NNS, but creates a large number of persons requiring confirmatory testing and a low PPV due to an expected increase in FP diagnoses. The latter creates a treatment burden for patients and the health service. An additional disadvantage of symptom screening and especially prolonged cough, is the wide variation in accuracy observed between studies [5], which was in part explained by differences in region and population HIV-prevalence. As a result the NNS in a specific setting may be approximately 50% higher or lower than the average that we used. Less variation is expected from CXR screening.
In settings where the prevalence of TB is low, the NNS is high for all algorithms, even for an algorithm with 100% sensitivity, resulting in high costs of screening per TP TB case found, and the PPV is low. Therefore in low prevalence settings great caution is needed and high specificity is very important. Mechanisms to improve specificity should be considered, for instance adding confirmatory culture before TB treatment is initiated in patients with absent or minimal symptoms, or XP may be used to confirm positive SSM. Target groups should be selected for whom it is critically important to detect active TB, and/or exclude active TB because of possible eligibility for treatment of latent TB infection (LTBI), e.g. HIV-infected [23]. Under those conditions some overtreatment of active TB may be more acceptable. In contrast, when the TB prevalence in the population to be screened is 2% or above, the NNS is much lower and the PPV is higher for all algorithms. Very high specificity is less crucial compared to low prevalence settings. These clinical epidemiological principles do not only guide the choice for an algorithm, but also provide a key rationale to focus screening to highest risk groups where TB prevalence may even be above 2% like HIV-infected, contacts of infectious TB cases, persons with silicosis, prisoners [24], and the elderly population in some very-high TB burden countries in Asia [25, 26].
CXR screening becomes much more attractive when XP is available. CXR for screening should ideally not be combined with SSM for diagnosis because of an increase in the NNS by approximately half, and the higher risk of false positives, especially if among SSM negatives the CXR is also used for a clinical diagnosis. Although CXR is good for screening because of high sensitivity, it is not as good for diagnosis since a CXR based clinical diagnosis has low specificity [18]. CXR screening has additional benefits. Persons with highly suggestive TB abnormalities can be identified who are missed by bacteriological tests. These persons are at increased risk of developing active TB in the future and would benefit from follow-up and possibly preventive treatment [27]. Second, the ability to detect other diseases. These advantages only apply if the health service has the capacity to provide follow-up of patients with unclear TB outcomes or clinical services for other identified conditions. A screening program should consider all such possible outcomes and consequences, and include those in informed consent to TB screening [4].
The cost and cost-effectiveness of an algorithm will be an important consideration, which we do not address in this study. CXR and XP are more costly tests compared to symptom screening and SSM [28]. However, digital CXR has very low running cost and is an attractive tool if the technology is already available, or if the high start-up costs could be covered under investments for general improvements of diagnostic capacity of a health system. Cost for screening program operations will be very setting specific. Ultimately cost-effectiveness also depends on the effect that different algorithms may have on transmission and at which interval they should be applied to accelerate or sustain reduced transmission. The development of a combined transmission and cost-effectiveness model will be important to compare screening and diagnostic strategies. However, empirical data on the effect of screening or active case finding on transmission are scarce [29]. Field studies comparing the effectiveness and cost-effectiveness of different algorithms and screening intervals are needed to better inform decision makers and screening models.
We used a simple model to focus on the most important concepts and show the expected variation from uncertainty and variation in test accuracy, which has limitations. The sensitivity of the confirmatory test are based on clinical studies [30, 31], and is generally lower in early case detection, like in prevalence surveys [6, 26, 32]. We assumed that the accuracy of screening and confirmatory tests are independent, while those may correlate in practice. Also the yield of screening may diminish if repeated at regular intervals [33]. As the sensitivity analysis points out, considerable variation in the NNS can be expected from variation in the sensitivity of the screening and confirmatory tests. Variability depends on the population tested [14, 32], but for SSM, also on technique and skills in getting a good sample, preparation, and reading. Quality assurance is therefore important. The extent and accuracy of clinical diagnosis, if applied in absence of mycobacterial culture may also vary greatly. Possible effects on participation of perceptions of the population to be screened are not considered in this model. A screening program that only identifies a small proportion of the TB cases may not be as reassuring for persons with a negative test result. Screening tests with low specificity may either cause unnecessary worry, or decrease motivation since one rarely receives a positive confirmatory test.
Our analysis points to a number of monitoring and evaluation questions. An assessment of the true proportion of TB cases detected would be desirable, but will often not be feasible. Instead an estimation of the specificity of the screen, the NNS and PPV could be obtained from routine monitoring data on participation in the screening program, the numbers and proportions of persons testing positive on screening and of TB cases diagnosed, and by periodic retesting of the persons diagnosed with TB with a more sensitive method (culture). If these indicators are outside the expected range for the algorithm used and presumed TB prevalence, more in-depth evaluation may be needed. Future research should address the need for empirical data and cost-effectiveness studies, and also focus on the development of a better screening test. Digital CXR has very low running costs and automated reading may be an option in the future [34, 35]. However, a simple, more portable screening test with greater and more consistent accuracy compared to symptom screening could greatly enhance TB screening.
This analysis concerns screening scenarios, but has relevance for diagnostic algorithms among people actively seeking care with TB symptoms as well. CXR may be used to triage patients for further bacteriological tests [36]. XP as a replacement of SSM will not only increase sensitivity and thus increase case detection, but also increase the PPV.
Conclusion
In conclusion, this study provides guidance on choice of algorithms, keeping in mind that with currently available means 'the one ideal algorithm' does not exist. Generally an algorithm composed of CXR screening followed by confirmatory testing with XP can achieve the lowest NNS and highest PPV, and the validity is least amendable to setting-specific variation. However resource requirements for tests and equipment may be prohibitive in some settings and a reason to opt for symptom screening and SSM. To better inform disease control programs about TB screening options we need empirical data to confirm the modeled yield, cost-effectiveness studies, transmission models and a better screening test.
Declarations
Acknowledgements
This study was financially supported by USAID (TB Care I) through the World Health Organization. The funding body had no role in the design, collection, analysis, and interpretation of data, nor in the writing of the manuscript or the decision to submit the manuscript for publication.
IO and KL are staff members of the World Health Organization (WHO). They alone are responsible for the views expressed in this publication and they do not necessarily represent the decisions or policies of the WHO.
Authors' Affiliations
(1)
Academic Medical Centre, Department of Global Health, University of Amsterdam, Amsterdam, The Netherlands
(2)
Amsterdam Institute for Global Health and Development, Amsterdam, The Netherlands
(3)
Global TB Programme, World Health Organization, Geneva, Switzerland
Copyright
© van't Hoog et al.; licensee BioMed Central Ltd. 2014
This article is published under license to BioMed Central Ltd. This is an Open Access article distributed under the terms of the Creative Commons Attribution License (http://creativecommons.org/licenses/by/4.0), which permits unrestricted use, distribution, and reproduction in any medium, provided the original work is properly credited. The Creative Commons Public Domain Dedication waiver (http://creativecommons.org/publicdomain/zero/1.0/) applies to the data made available in this article, unless otherwise stated.