Study protocol
Open Access
Characterizing the syphilis epidemic among men who have sex with men in Lima, Peru to identify new treatment and control strategies
BMC Infectious Diseases
2013
13:426
Received: 14 August 2013
Accepted: 2 September 2013
Published: 10 September 2013
Abstract
Background
Syphilis is an important sexually transmitted infection (STI) with serious public health consequences. Among men who have sex with men (MSM) in Lima, the prevalence and incidence are extraordinarily high. Current syndromic approaches, however, fail to identify asymptomatic cases, and in settings where large proportions of individuals test positive again after treatment, it is frequently difficult to distinguish treatment failure from re-infection. Thus, new approaches are needed to improve treatment strategies and public health control efforts.
Methods/Design
Study participants will undergo baseline testing for syphilis infection along with a behavioral survey covering demographics, sexual behavior, drug and alcohol abuse and health-care seeking behavior. The cohort will be followed for 18 months at three-month intervals. Blood and earlobe scrapings will also be collected for T. pallidum DNA testing, to create molecular markers for subtyping. We will also perform cytokine testing on collected samples in order to create host immunologic profiles associated with recurrence, re-infection, treatment failure and success.
Discussion
Advances in social epidemiology, molecular typing and characterization of host immune responses will offer promise in developing new understandings of syphilis management. We will share our findings with the Peruvian Ministry of Health and other public health organizations, to identify new approaches of case detection and successful treatment.
Keywords
SyphilisPeruMen who have sex with men (MSM)HIVT. pallidumMolecular epidemiologyCytokineMacrolide resistance
Background
Syphilis remains an important sexually transmitted infection (STI) with grave medical and public health consequences if left untreated. It is caused by the bacterium Treponema pallidum (T. pallidum) and is the leading cause of preventable infant mortality, surpassing HIV infection globally [1]. The risk of acquiring and transmitting HIV infection is increased in the presence of syphilitic ulcers [2, 3]. Between 10 and 12 million new infections of syphilis occur worldwide annually, including an estimated 2–3 million cases in Latin America, [4] mostly among high-risk populations including sex workers, men who have sex with men (MSM) and male-to-female transgender women (TW) [5].
Despite existing prevention and control programs, syphilis infection remains an important public health problem in Lima, Peru, concentrated largely among MSM and TW [6–8]. A study of 1,056 high-risk MSM/TW found a lifetime prevalence of 21.6% and an incidence rate of 8.4 cases/100 person-years (95% CI: 6.7-7.1) [7]. A related study found that among HIV-antibody positive MSM/TW, the prevalence of active, untreated disease was 21% and a lifetime history of syphilis infection was 35.5% [9]. High rates of syphilis infection among MSM/TW have implications for the broader population in Peru, as previous studies have found higher prevalence of syphilis among men reporting same-sex behavior [10] and among women whose male partners had sex with men [11, 12].
In Peru and other Latin American countries, the current syndromic approach to syphilis management, which relies on diagnosis and treatment based on recognition of ulcerative lesions, has proven inadequate in controlling the syphilis epidemic, and thus, new approaches are warranted. Syphilis control efforts are frequently complicated by treatment failure and high rates of repeat infection—up to 43% in one study in Peru, [13] and failure to detect asymptomatic infections [14]. Often, it is not clear whether a new diagnosis represents past treatment failure, re-infection or identification of a previously asymptomatic infection, and thus, improved case-finding and diagnostic strategies are urgently needed.
In order to characterize the determinants of the current syphilis epidemic among MSM/TW in Peru, and to better inform syphilis treatment and control strategies worldwide, it is critical to study various aspects of the pathogen, host, and environment among syphilis cases. Here we describe an observational study focused on MSM/TW who were diagnosed with, or are at high risk of syphilis, that will take place over a period of 5 years (2013–2017) in Lima, Peru. We will first characterize the prevalence and incidence of syphilis among MSM/TW. Next, through ascertainment of treatment status, host immune response, and pathogen genotype analysis, we will classify cases as reinfection, persistent infection/treatment failure, or recurrence based on incomplete treatment. Data will be collected on diagnosis/treatment history, sexual behavior, and in-depth immunological and molecular biologic aspects of the pathogen. To improve the population-specific understanding of syphilis, molecular typing will provide broad information on the
T. pallidum
bacteria encountered to distinguish between re-infection with a new strain, antimicrobial resistance or persistence of original infection. Through behavioral, diagnostic, molecular and immunological research, our study offers potential to develop new approaches that may inform strategies for improving current syphilis control strategies (Figure
1
).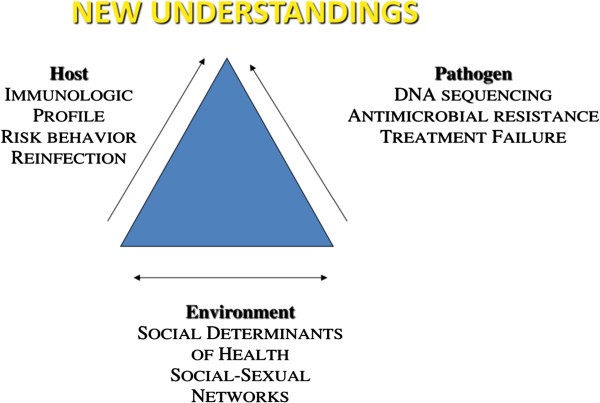 Discussion
We anticipate that the benefits of study participation will outweigh risks, including loss of confidentiality and privacy of clinical information. A number of mechanisms will be enforced to minimize these risks: In turn, participants will benefit from treatment of newly-diagnosed STIs, along with increased awareness and education pertinent to STI prevention. New understandings obtained from this study will also provide indirect benefit to through impact and potential improvement of treatment norms and guidelines.
It is critical that all participants with positive syphilis tests at any follow-up point be treated. At the time of enrollment, participants will be asked to provide contact information such as a name or nickname, address and phone number, email address, and telephone number, as well as the names and contact information for two relatives or friends that will know their whereabouts, although participants will not be excluded from the study if they do not wish to provide additional contacts. For positive test results obtained after point-of-care testing and RPR titration (e.g. Western Blot and/or CT/NG diagnosis), the study team will contact participants by telephone or text message and set up an appointment for results notification and no-cost treatmentor referral to the Peruvian National HIV Treatment Program for HIV treatment.
General findings and recommendations for changes in STI management guidelines will be presented to, and discussed with, two different constituencies: (a) a technical group (other researchers, government officials, infectious disease and sexual health specialists); and (b) a community group (community advisory board and other community representatives). A final version of recommendations will be provided to key stakeholders, community members, and the Ministry of Health of Peru. We will make great efforts to identify feasible changes and produce concrete recommendations that can be proposed for revision of the present syphilis management guidelines, particularly in Peru. Our study will also have relevance to other Latin American and lower-middle income countries, particularly those with concentrated epidemics among high-risk populations, such as MSM.
The information we intend to gather during the proposed study has the potential to provide a more comprehensive and sound understanding of the syphilis epidemic, including prevention, diagnosis, and treatment. Knowledge from the behavioral, diagnostic and molecular components of our study will offer potential to develop new approaches and inform efforts in syphilis control. Identification of pathogen subtypes will provide researchers the ability to distinguish intrinsic resistance and actual re-infection. Insights from the immunologic study of cytokines may provide new avenues in identifying potential serologic markers for cure. Thus, our study will help expand the current clinical and public health response to syphilis, which has proven insufficient in combating the epidemic, with the goal of ultimately reducing the incidence and prevalence of syphilis infection in Peru and worldwide.
Declarations
Acknowledgments
This article describes a study that has been funded by the National Institute of Allergy and Infectious Diseases (1R01AI099727-01: PI Caceres). We would like to thank the staff at Barton Health Center and Epicentro for their assistance in study protocol design.
Authors' Affiliations
(1)
Division of Infectious Diseases, Harbor-UCLA Medical Center, Torrance, USA
(2)
Program in Global Health, Division of Infectious Diseases, David Geffen School of Medicine, University of California, Los Angeles, USA
(3)
Unit of Health, Sexuality and Human Development, Cayetano Heredia University School of Public Health, Lima, Lima, Peru
(4)
Program in Public Health, Department of Population Health & Disease Prevention, University of California, Irvine, Irvine, USA
(5)
Department of Global Health, University of Washington, Harborview Medical Center, Seattle, USA
(6)
Centre for Sexual Health and HIV Research, Faculty of Population Health, University College London, London, Greater London, UK
Copyright
© Deiss et al.; licensee BioMed Central Ltd. 2013
This article is published under license to BioMed Central Ltd. This is an Open Access article distributed under the terms of the Creative Commons Attribution License (http://creativecommons.org/licenses/by/2.0), which permits unrestricted use, distribution, and reproduction in any medium, provided the original work is properly cited.