Research article
Open Access
Open Peer Review
This article has Open Peer Review reports available.
Changing profile of rotavirus genotypes in Bangladesh, 2006–2012
BMC Infectious Diseases
2013
13:320
Received: 17 February 2013
Accepted: 9 July 2013
Published: 15 July 2013
Abstract
Background
Rotavirus is the leading cause of severe diarrhea in infants and young children worldwide including Bangladesh. Unlike what was seen in high-income countries, the licensed rotavirus vaccines did not show high efficacy in Bangladeshi trials. We assessed rotavirus prevalence and genotypes in Bangladesh over six-year period to provide baseline information on the rotavirus burden and changing profile in the country.
Methods
This study was conducted from June 2006 to May 2012 in Matlab, Bangladesh. Group A rotaviruses were detected in stools collected from diarrhea patients by ELISA and genotyped using multiplex reverse transcription PCR followed by nucleotide sequencing.
Results
Of the 9678 stool samples, 20.3% were positive for rotavirus. The most predominant genotype was G1P[8] (22.4%), followed by G9P[8] (20.8%), G2P[4] (16.9%) and G12P[8] (10.4%). Mixed infections were detected in 14.2% of the samples. Emergence of an unusual strain, G9P[4] was documented during 2011–12. Several amino acid mismatches in the antigenic epitopes of VP7 and VP4 between Bangladeshi and the vaccine strains were identified.
Conclusions
Our study provides important information on rotavirus genotypes that should be considered for the selection and introduction of rotavirus vaccines in Bangladesh.
Keywords
RotavirusDiarrheaVaccineBangladeshGenotypeEpitope
Background
Rotavirus causes severe diarrhea in infants and young children worldwide and is responsible for an estimated 475,000-580,000 deaths and >2 million hospitalizations each year [1]. Most of these deaths occur in developing countries especially in Africa and Asia [2]. The virus is commonly characterized by the presence of two neutralizing antigens on their outer capsid proteins, VP7 (G genotypes) and VP4 (P genotypes) [3]. To date, at least 27 G and 37 P genotypes have been described in humans and animal species [4, 5]. Until the mid-1990s, the most common human rotavirus types were G1P[8], G2P[4], G3P[8], and G4P[8]. Two additional types G9 and G12 associated with P[8] or P[6] have emerged since 1995 and 2001, respectively, and have become common in humans [6, 7].
The current rotavirus vaccines are based on the strains that were isolated in the 1980s. Rotarix™ is derived from the attenuated human G1P[8] rotavirus group A strain 89–12 [8], while RotaTeq™ contains five human-bovine reassortant rotavirus group A strains, WI79-9 (G1), SC2-9 (G2), WI78-9 (G3), BrB-9 (G4), and WI79-4 (P[8]). These vaccines have demonstrated high efficacy (>90%) against severe rotavirus disease in high and middle income countries [9–12]. However, the clinical trials failed to confer adequate efficacy (<60%) in low income countries such as India, Malawi, Nicaragua, Vietnam, and Bangladesh [13–16]. A key question that remains is why rotavirus vaccines did not provide sufficient protection in low income countries. One of the reasons could be the strain diversity and antigenic variations of rotavirus strains compared to the vaccine strains. Lower vaccine efficacy may also be caused by the presence of sub-genotypic lineages. Hoshino et al. showed that antisera raised against G9 lineage 1 strains had a broad neutralizing ability against all three G9 lineages, while antisera raised against G9 lineage 2 or 3 strains had a lower neutralizing ability to other G9 lineages [17]. Moreover, accumulation of point mutations in the antigenic epitopes could drive the virus to escape the vaccine induced immunity. Prior to 1995, 96.3% of all reported rotavirus strains matched antigens present in either RotaTeq™ or Rotarix™ vaccines (G1-G4). However, the proportion of vaccine-matched strains declined to 70.5% by 2005–2009. The VP7 trimer, which is responsible for evoking neutralizing antibodies, contains two structurally defined antigenic epitopes: 7–1 and 7–2. The 7–1 epitope spans the inter-subunit boundary and is further subdivided into 7-1a and 7-1b. Activation of another neutralizing protein VP4 requires its proteolytic cleavage into VP8 and VP5 which contain four (8–1 to 8–4) and five (5–1 to 5–5) surface-exposed antigenic epitopes respectively [18].
Since 1963, International Centre for Diarrhoeal Disease Research, Bangladesh (icddr,b) has maintained a treatment facility in rural Matlab that provides healthcare services to 12,000-15,000 diarrhea patients annually. It has also established a surveillance system to monitor the common diarrhea pathogens that have shown rotavirus as the predominant diarrheal etiological agent. RotaTeq™ and Rotarix™ vaccine trials conducted in Matlab during 2007–2012 showed vaccine efficacy ofless than 45% [13], which is much lower than what has been observed in high income countries. To better understand whether the lower immune response was related to differences in circulating versus vaccine strains, this study assessed the rotavirus prevalence and genotypic variability in Matlab. Such information is pertinent for making decisions for selection of suitable vaccine strains for Bangladesh.
Discussion
From 2007 to 2012, icddr,b conducted two rotavirus vaccine trials (RotaTeq™ and Rotarix™) in Matlab. The Government of Bangladesh has decided to include the vaccines in the National Health Immunization Program in the upcoming years. In this study, we aimed to extend the previous rotavirus genotype surveillance conducted in Matlab (2001–06) [19] up to the year 2012 to provide the baseline information for the policy makers to implement the appropriate vaccines in the country.
During our study period, we detected rotavirus throughout the year and did not find a noticeable difference in rotavirus hospitalization compared to aprevious study (Figure 1A). The incidence rate is comparable to the reports from India, Nepal, Malaysia, Japan and Taiwan (20-25%) but much lower than Thailand, Myanmar and Vietnam (38.1-56%) [22]. We observed strong yearly fluctuations (Figure 1B) of genotypes G1P[8], G2P[4], G9P[8] and G12P[8], which accounted for 70.5% of the total strains. In 2010–11, we noticed a sudden change of rotavirus genotypes when a sharp decrease of G2P[4] and G9P[8] was accompanied by the emergence of G12P[8] (Figure 1B). In the same year more than one third of the samples exhibited mixed rotavirus strains with G1, G2 and G9. Mixed infections play an important role in generating reassortant unusual strains thatwere evident in many countries including Bangladesh [23, 24]. Consequently, we found high numbers (36.4%) of unusual strains in 2011–12 that might be the results of mixed infections existing in the previous year. Interestingly, for the first time in 2011–12, we identified an unusual strain G9P[4] which was the most predominant strain in that year. It is speculated that G9P[4] has evolved from co-infections with G2P[4] and G9P[8]. Similarly, other unusual strains such as G1P[6], G2P[6], G2P[8] and G9P[6] might be generated through reassortment events between commonly circulating rotavirus strains which are supported by the previous reports [25].
With concordance to the previous studies, G3 has been completely absent since 2001 in Bangladesh [19]. In the same way, G4 strain, which was the most common (47%) from 1992 through 1997 in Bangladesh, decreased gradually over time and we did not identify any G4 following 2006–07. Both of these strains showed similar declining patterns in other Southeast Asian countries [23]; however, they still have been frequently detected in other parts of the world [26, 27].
We found some differences in the antigenic epitopes of the currently circulating homotypic G1, G2 and P[8] genotypes with the vaccine strains (Figure
3
). This variation could be due to the fact that the original vaccine strains were isolated quite a long time ago and the circulating strains in the meantime have changed through their natural evolution. Jin and colleagues showed that the propensity of continuing accumulation of point mutations in the antigenic sites of the outer capsid proteins vastly increased the possibility of escaping host immunity conferred by the vaccine virus [
28
]. As expected, the heterotypic G9, G12 and P[4] genotypes were more distantly related to the vaccine strains compared to the homotypic genotypes. However, genetic variability may not be the concern behind the lower vaccine efficacy in developing countries like Bangladesh due to the fact that most of the concomitantly circulating rotavirus strains in developed and developing countries show a high conservation in antigenic sites. Although our data do not provide a clear indication that the licensed vaccines may be less effective against heterotypes, the apparent emergence of G2P[4] and G9P[4] in the vaccinated areas of Brazil, Mexico, and Australia raises the question whether the shifts of rotavirus strains were the result of natural yearly fluctuation of genotypes or due to the selection pressure [
24
–
26
]. Therefore, other possible parameters including malnutrition, interference with maternal antibodies, changes in gut microbiota, and genetic susceptibility should be investigated [
29
,
30
].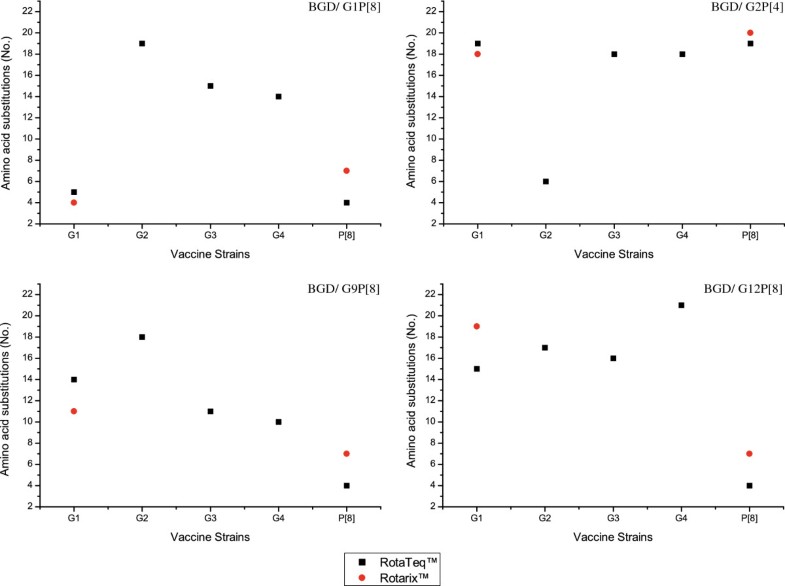 Conclusions
The licensed rotavirus vaccines showed lower efficacy in Bangladeshi trials and many investigator and policy makers are beginning to question whether the current vaccines may be useful in the country or whether an alternative vaccine will work better in this setting. In this context, our study provides important information on rotavirus genotypes that should be considered for the selection of vaccine strains, development of an alternative vaccine strategyand rotavirus vaccine introduction in national immunization programs.
Abbreviations
icddr:

b: International Centre for Diarrhoeal Disease Research, Bangladesh
RRC:

Research Review Committee
ERC:

Ethical Review Committee
ELISA:

Enzyme-linked immunosorbent assay
EIA:

Enzyme immuno assay
RT-PCR:

Reverse transcriptase polymerase chain reaction
PAGE:

Polyacrylamide gel electrophoresis dsRNA, Double-stranded ribonucleic acid
UV:

Ultraviolet.
Declarations
Acknowledgements
This research study was funded by icddr,b and its donors which provide unrestricted support to icddr,b for its operations and research. Current donors providing unrestricted support include: Australian Agency for International Development (AusAID), Government of the People's Republic of Bangladesh; Canadian International Development Agency (CIDA), Swedish International Development Cooperation Agency (Sida), and the Department for International Development, UK (DFID). We gratefully acknowledge these donors for their support and commitment to icddr,b's research efforts.
Authors' Affiliations
(1)
Virology Laboratory, International Centre for Diarrhoeal Disease Research, Bangladesh (icddr,b), Mohakhali, Dhaka, Bangladesh
Copyright
© Afrad et al.; licensee BioMed Central Ltd. 2013
This article is published under license to BioMed Central Ltd. This is an Open Access article distributed under the terms of the Creative Commons Attribution License (http://creativecommons.org/licenses/by/2.0), which permits unrestricted use, distribution, and reproduction in any medium, provided the original work is properly cited.