Research article

Open Access

Open Peer Review
This article has Open Peer Review reports available.
Analysis of S. Epidermidis icaA and icaD genes by polymerase chain reaction and slime production: a case control study
BMC Infectious Diseases
2013
13:242
Received: 27 March 2012
Accepted: 20 May 2013
Published: 25 May 2013
Abstract
Background
Staphylococcus epidermidis is a common pathogen in medical device-associated infections and have an ability to form adherent slime. We aimed to study the effects of icaA and icaD genes on the slime formation of Staphylococcus epidermidis associated with catheter-associated infections.
Methods
S. epidermidis isolates from the central venous catheter blood of patients with catheter-associated infections, and from the nasal vestibules of healthy volunteers, intensive care unit hospital staff, and patients, were collected. Slime phenotype was determined by Congo red agar test. The icaA/D was detected by polymerase chain reaction. Slime was examined using scanning electron microscopy.
Results
A total of 82 S. epidermidis isolates were collected. We found a statistically significant difference with regards to slime production between the clinical isolates from the catheter blood specimens and those from the nasal vestibules (p<0.05). All S. epidermidis slime positive strains isolated were icaA positive. There was a greater correlation between the presence of both icaA and icaD and the slime production than the single expression of icaA or icaD and the presence of slime in all groups. The co-expression of mecA and icaD was associated with enhanced resistance to antibiotics.
Conclusion
S. epidermidis bacteria are significant nosocomial pathogens, and icaA/D can clarify the adhesion mechanism in the pathogenesis of infections associated with medical devices. This study result could be useful for the development of rapid diagnosis for slime producing and methicillin resistant S. epidermidis strains.
Keywords
Catheter-associated blood stream infections S. epidermidis Slime icaA/D Scanning electron microscopy
Background
Coagulase-negative staphylococci (CNS) are the most frequent cause of nosocomial blood stream infections [1], in particular, Staphylococcus epidermidis, which has emerged as a major pathogen [2]. S. epidermidis, a normal inhabitant of human skin and mucous membranes, is the predominant cause of foreign-body-associated infections [3, 4]. In addition, S. epidermidis is isolated with increasing frequency as the causative pathogen of nosocomial sepsis, and accounts for approximately 30% of all nosocomial blood stream infections [4]. These infections are often indolent and unresponsive to antimicrobials [5], and frequently result in the removal of the adulterated device. In clinical samples, rates of methicillin resistance in intensive care unit settings have been reported to be 55–77%, or even 86% [6–8].
In an early study, the "slime" production by S. epidermidis was found to be significantly associated with clinical infections [9]. Coagulase-negative staphylococci, particularly S epidermidis, are the important cause of infections associated with foreign materials. Bacterial adhesion has been considered as the leading cause of severe nosocomial infections related to implanted medical devices [10]. In the recent years, a study has been conducted to investigate the ica gene as a marker of the S. epidermidis adhesive aptitude [11].
This study analyzed 82 S. epidermidis, collected over a 15-month period from patients, hospital staff in the intensive care unit, and volunteers. The aim of this study was to determine the presence of the icaA and icaD in S. epidermidis from catheter-related blood stream infections and to determine the correlation between the presence of icaA and icaD, biofilm production, and resistance to antibiotics.
Methods
Bacterial strains
This study analyzed 82 S. epidermidis isolates collected from May 2009 to July 2010. Twenty-two S. epidermidis studied were isolated from patients blood taken from intravascular catheters; another 60 strains of S. epidermidis isolated from the nasal vestibules of healthy non-medical volunteers, patients (same patients from whom blood specimens were obtained), and intensive care unites (ICU) hospital staff were also investigated.
All S. epidermidis isolates were characterized using vitek 2 compact (bioMe´rieux, France). Ethical approval for the study was obtained from the Central Research Ethics Committee in the Provincial Hospital and included the patients' and volunteers' prior written consent.
Two S. epidermidis reference strains were used, the well known slime-producing strain ATCC 35984 (RP62A) and the non-slime-producing strain ATCC 12228. The quality control strain was Staphylococcus aureus ATCC 25923 [12].
Strain storage
The S. epidermidis were stored in trypticase soy broth (TSB), with 15% glycerol added at -20C for 1 to 15 months long. The isolates were recovered when the study was initiated. The S. epidermidis recovery rate reached 100%.
Study design
This study was a prospective design. Eighty-two strains of S. epidermidis were collected over a 15 month period. Eighty-two S. epidermidis isolates were collected usng sterile swabs from patients' central venous catheter blood, and from the nasal vestibules of non-medical volunteers, ICU hospital staff, and patients. A total of 70 volunteers and 69 staff (doctor and nurse) who haven't had any diseases were included. Among them, the volunteers were 1st year medical students from Anhui Medical University. Only cases with bacteraemia from catheter-associated infections, confirmed by positive blood culture and clinical evidence of catheter-associated infections, were included in the study. Cases without neutropenia and cases with bacteraemia from mixed pathogens were excluded in order to avoid the contamination of S. aureus and confusion about the true pathogen. The study was conducted in the ICU of the Affiliated Provincial Hospital, Anhui Medical University, Hefei, China. The unit has the capacity to provide care for 54 patients.
Detection of slime production
Qualitative detection of the phenotypic production of biofilm formation by all strains was studied by culturing the strains on Congo red agar (CRA) plates (CRA; Sigma Chemical Company, St Louis, MO, USA) [13]. For an accurate assessment of all the possible chromatic variations exhibited by the cultured colonies, a six-color reference scale was used and interpreted, and smooth colonies were classified as slime negative strains.
Scanning electron micrograph
An additional set of experiments was performed using Scanning electron micrograph to evaluate the structure of slime formed under study. Examples of these slimes are shown in Figure
1
.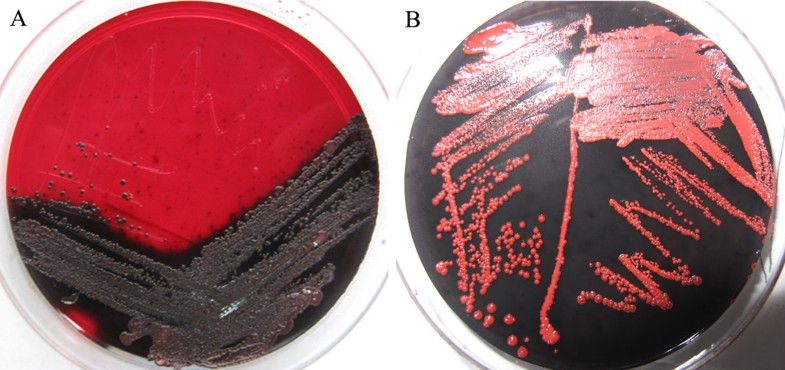 Critical dried material was mounted onto an aluminum stub and coated with palladium in a scanning electron microscopy (JSM-6700 F, JEOL) [14].
Polymerase chain reaction (PCR) for icaA and icaD genes and mecAsequences
After overnight culture on brain-heart infusion agar plates, one colony was suspended in 20 ml of sterile distilled water, and the suspension was then heated at 100°C for 20 minutes. From this suspension, a 5 μl aliquot was directly used as a template for PCR amplification.
The sequences of icaA and icaD were taken from the GenBank sequence database of the National Center for Biotechnology Information [12]. Primers specific for icaA and icaD were selected based on gene sequences by the Primer 3 program. The primers were synthesized by TAKARA biotechnology (Dalian) Co, Ltd (China).
The presence of icaA, icaD, and mecA DNA were detected by polymerase chain reaction using forward and reverse primers for icaA, icaD, and mecA, as described previously [15, 16]. For the detection of icaA (188-bp), the forward primer had the following sequence: 5′-TCT CTT GCA GGA GCA ATC AA; and 5′-TCA GGC ACT AAC ATC CAG CA was used as a reverse primer. The primer sequences for icaD (198-bp) were: forward, 5′-ATG GTC AAG CCC AGA CAG AG; and reverse, 5′-CGT GTT TTC AAC ATT TAA TGC AA. The primers' detections of the mecA (224-bp) were AAA ATC GAT GGT AAA GGT TG GC forward, and AGT TCT GCA GTA CCG GAT TT GC reverse.
PCR was performed in a DNA thermal cycler and using the method described by Petrelli D et al. [17]. The Gene Ruler 100 bp DNA ladder was used as a DNA size marker, and visualized under ultraviolet transillumination.
Analysis of data
Statistical analysis was performed by means of SPSS 17.0 (SPSS Inc., Chicago, USA) software. Comparisons between groups were performed using the chi-square test. The Pearson correlation coefficient (r) and its significance (P) were calculated between groups; probability values less than 0.05 were considered statistically significant.
Discussion
Staphylococcus epidermidis are found ubiquitously, residing on human skin in healthy adults [18]. It has now been recognized as a key pathogen involved in adhereing to indwelling medical devices surfaces and form biofilms. The major virulence factor is that they can form biofilm on polymeric surfaces and adherence to catheters and other artificial materials during the early phase of biofilm development [13]. Slime production seems, therefore, to be a very important mechanism of adhesion onto biomaterials. In particular, the current study demonstrated that S. epidermidis should be recognized as a major cause of catheter infections. This study investigating the biofilm formation showed that slime accumulation is mediated by the chromosomal ica gene, which comprises four intercellular adhesion genes (icaA, icaB, icaC and icaD) and one regulator gene (icaR) [19].
Conclusion
In summary, these data suggested that ica is typically associated with biofilm production of S. epidermidis in ICU. Both icaA and icaD can support the adhesion mechanisms of S. epidermidis involved in the infections associated with medical devices. Co-expression of mecA and icaD is associated with enhanced clinical isolates that produce slime and may be more resistant to antibiotics. This study may help the development of rapid diagnosis approach for slime producing and methicillin resistant strains in hospitals.
Abbreviations
CNS:

Coagulase-negative staphylococci
CRA:

Congo red agar
ICU:

Intensive care unites
PCR:

Polymerase chain reaction
TSB:

Trypticase soy broth.
Authors' Affiliations
(1)
Department of Critical Care Medicine, Affiliated Provincial Hospital of Anhui Medical University, Hefei, China
(2)
Department of Laboratory, Affiliated Provincial Hospital of Anhui Medical University, Hefei, China
Copyright
© Zhou et al.; licensee BioMed Central Ltd. 2013
This article is published under license to BioMed Central Ltd. This is an Open Access article distributed under the terms of the Creative Commons Attribution License (http://creativecommons.org/licenses/by/2.0), which permits unrestricted use, distribution, and reproduction in any medium, provided the original work is properly cited.